What The Kettlebell Company Execs Don't Want You To Know About Their Marked Up Prices
UPDATE: Check out my new complete competition kettlebells review, where I showcase some of the highest-quality kettlebells from all of the major brands: 14 Kettlebells Compared: The Complete Kettlebell Review.
Three years ago, yesterday, if you can believe it, I published The Definitive Guide For Buying Kettlebells, which included a big chart containing all of the actual prices of kettlebells from several different online distributors. Seeing all of the prices in one place was eye-opening, to say the least. And needless to say, those prices have changed a bit since then. Most have gone up, but not as much as you'd think. Now, there are some really interesting things you can learn while shopping around these days. And if you're in the market for a kettlebell or two, you might want to know what I dug up today while I was updating the prices in my KB buyers guide.
For example, did you know that a standard 16kg kettlebell from one of the country's largest, if not the largest kettlebell distributors, will run you a whopping $121.33 shipped ($96.75 + 24.58 S/H)? Well, if you didn't, then you will be shocked to learn that you can buy an even higher quality kettlebell for less money – a lot less money. In fact, you can get a pro-grade, competition-quality kettlebell of the same weight for a mere $71.95 shipped. For you math whizzes, that's about $50 less. Or, about 40% less – just by choosing a different retailer.  Heck, with that price disparity, you could practically buy two for the price of one. And did I mention you'd be getting a higher-quality kettlebell that would even be acceptable in official kettlebell sport? Need I say more?
That's just one example of the many things you learn when doing a bit of price shopping these days. And that's exactly what I did this morning for a couple hours to update my kettlebell buyers guide. You can see the prices for yourself in the fully updated PDF here: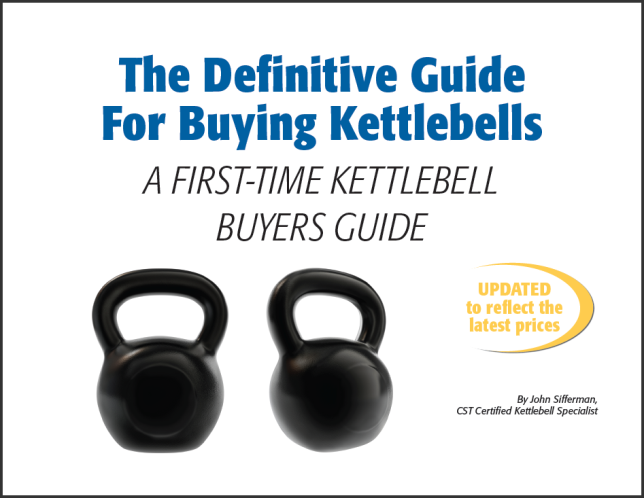 Not only will you learn where to find the best deals on the best kettlebells, you'll also learn which company is charging almost double what the competition charges and which companies will nail you with excessive shipping costs. In fact, I found a site that wanted $100 to ground ship just one kettlebell.  That's right. And they wanted over $500 for 2nd day air. Can you believe that? Who would pay for that?
But not only will you find the best deals on kettlebells, you'll also learn a lot more.
You see, I first put this buyers guide together three years ago because I got tired of answering the same questions over and over again. I kept getting the questions…
Which kettlebell brand is the best?
Where can I get the best deal on kettlebells?
What are the highest quality kettlebells and where can I find them at the best price?
What's the difference between pro-grade, competition kettlebells and standard-grade kettlebells, and which would be best for me?
What weight should I start with?
etc.
So, in an effort to help these poor souls and save myself some time, I put together all of my answers in one simple PDF guide – complete with up-to-date prices from several of the major kettlebell distributors. This way, instead of writing up a whole email, I could just send someone a link that would answer the vast majority of their questions. It was a win-win. And since then, I've received a handful of thank you messages for putting together the guide and helping people save money. But it was time for an update.
Now, the only thing I did not include in the updated PDF that could have been included are my personal recommendations. You see, three years is a lot of time, and in that time, I've narrowed down my recommended kettlebells to two different companies. See below to find out which ones I recommend and for whom.
John's Kettlebell Recommendations
UPDATE: My top two choices are the competition kettlebells from Kettlebells USA and Kettlebell Kings. Both companies offer excellent choices at great prices. But there are a lot of other good options out there, too. So, feel free to check out my new complete kettlebell review, where I showcase some of the best kettlebells from all of the top brands: 14 Kettlebells Compared: The Complete Kettlebell Review.
If you're in the market for a kettlebell, then I really hope you're looking for an official, pro-grade, competition-style kettlebell. If you don't know what that is or why you should only get that kind, then read the guide. It'll give you the full scoop.
Now, the highest-quality kettlebells that money can buy are the ones designed by Valery Fedorenko and are only available through the World Kettlebell Club. I have absolutely no affiliation with them, but I've used their products, and they are the best kettlebells I've tried – bar none – and I've tried almost all of them. So, if you are an actual kettlebell athlete, and you've got the money, go with the WKC kettlebells. You won't regret it.
That said, to this day, the kettlebells that are available from Perform Better are the best value kettlebells that money can buy. You just won't find a better deal on pro-grade kettlebells anywhere on the internet. And believe me. I've looked. It's true that they are not the absolute highest-quality kettlebells out there, but for the vast majority of people and for the vast majority of purposes, these are the kettlebells to buy.
They're good quality, extremely cheap (even compared to standard kettlebells), and by far the best value. Check out the current prices at the link below.

Note: you can learn more about these kettlebells in my review here.
If you found this article helpful, please share it with your friends and tweeps:

CST Coach, CST-KS
Health-First Fitness Coach
P.S. If you liked this post, then please signup for the newsletter, or follow me on Facebook or Twitter for daily updates and other interesting info.