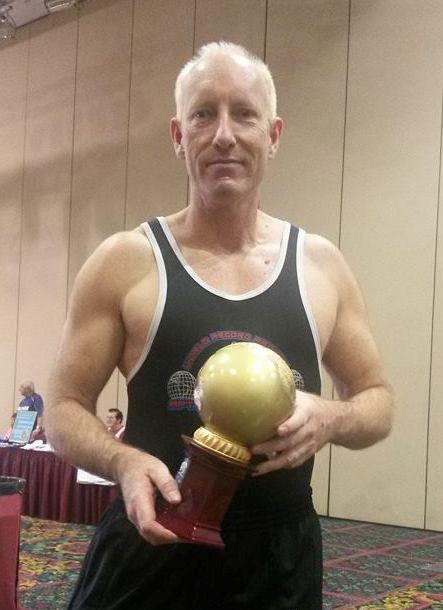 If you're not familiar with Charles Staley, let me introduce you to a world-renown strength and conditioning coach, a well-accomplished powerlifter, and a prolific fitness writer.
Charles is a tall, somewhat lanky, but quite muscular, competitive powerlifter who can squat roughly twice his body weight and deadlift over 2.5 times his weight. He also set a new PR last year in chin-ups, scoring 17 reps. Oh, and did I mention that he's in his late fifties and in the best shape of his life? I tip my hat to you, sir. You are walking the talk and leading from the front.
I first started following Charles work around 2004 when I read one of his articles about Escalating Density Training. Charles has since updated that article here: EDT Revisited. He's a regular contributor to big name sites like Breaking Muscle, T-Nation, and Bodybuilding.com.
Just the other day, I ran across one of his articles, Making Continued Progress in Your 40s, 50s, and Beyond, which I loved because not only do I get a chance to learn from someone who has gone before me, and is a little older and wiser than I, but it also helps me prepare for things when I'm in my 40s and 50s, too.
So, after reading that, it struck me that, "I've known about this guy for awhile and have learned a lot from him. I should reach out to him for an interview." One quick email was all it took, and he happily agreed. And in no time, we were talking training for nearly 90 minutes – and probably would have gone longer had I prepared some more questions.
I've always admired Charles "stick to the basics" approach to strength training. And the fact that he's in his late fifties and still healthy, fit, injury-free, and very strong is a good indicator that his methods are sound.
Check out this recent video of Charles deadlifting 495 pounds. That's 2.5 times his bodyweight, which is a very impressive pull no matter who you are.

Charles has been around the iron game for most of his life, and he does his own thing. At times, he's held a reputation of being somewhat of a rebel in the strength community. But I don't think it's because he wants to be. Charles is concerned with what works – what gets results. And I think that's one of the reasons why he's been so successful in both his training and his career.
Like that infamous Orwell quote, "in a time of universal deceit, telling the truth is a revolutionary act." Similarly, in a world of fitness hyped up with over-exaggerated claims, false promises, and quick fixes; doing what works – what has always worked – is a revolutionary act. And that's exactly what Charles does – with his own unique twist on everything.
So, if you're at all interested in fitness or strength training, check out this interview with Charles Staley. And if you want to be fit and strong into your 40s, 50s, and beyond, then definitely give this a listen.
Interview with Charles Staley

Interview with Charles Staley – MP3 AUDIO FILE (81 minutes, 75 MB).
Interview Topics
Here are some of the topics we covered:
Charles' background
How Charles manages to stay fit in his late fifties
The two braindead simple keys to functional fitness
How EDT works and why it's so effective for fat loss, muscle gain, and conditioning
Charles' biases and why he has them
What would go in Charles' dream garage gym
How to get into weightlifting safely
Exercises that Charles thinks most people should do, but usually don't
Best practices for deadlifting
Injury prevention tips
Why Charles did a 180 and is now back to using machines for strength training
Advice for older athletes and fitness enthusiasts
How Charles stays motivated and driven to succeed
The fitness and S&C professionals that Charles looks up to
And much more!
Wrap Up
I want to thank Charles again for taking the time to do this interview. It was a pleasure to chat about training for a bit, and I'd love to do it again sometime. You can learn more about him and his work at his website: www.TargetFocusFitness.com. Or, you can find him on Facebook here: Charles Staley (personal page), Staley Strategies (business page).
If you found this article helpful, please share it with your friends:

Health-First Fitness Coach
P.S. If you liked this post, then please signup for the newsletter, or follow me on Facebook or Twitter for daily updates and other interesting info.