An Interview with Tom Venuto About Trying New Things, Getting Out Of Your Comfort Zone, and His Next Big Adventure to Hike From Mexico To Canada on the Pacific Crest Trail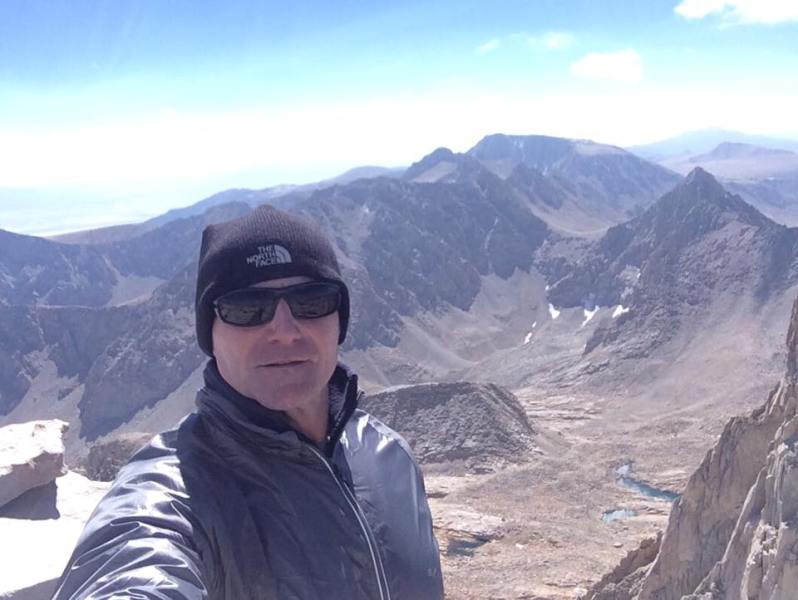 Today, I have the great pleasure of sharing a conversation I had with my good friend and colleague, Tom Venuto. Tom is one of the most respected experts in the world on the subjects of fat loss and body transformation, among others. He's also been a lifetime natural bodybuilder who has competed in 28 competitions to date. I've taken to calling him "the man with the muscles," and many of his friends affectionately call him "meathead." But Tom has got brains to go with his brawn. Although, that could be debated considering his upcoming plans!
All kidding aside, Tom's been putting his brain to good use in preparation for an adventure of a lifetime: through-hiking the Pacific Crest Trail (PCT). The PCT is 2659 miles long and traverses some of the highest mountains in the USA, along with deserts, forests, and some of the most primitive places in the country. Tom may soon have to dodge bears, rattlesnakes, mountain lions and even greater dangers such as deep snow and extreme and rapidly changing weather conditions.
His plan is to start in Mexico and work his way north to Canada, hopefully reaching the PCT Terminus before winter begins.
To achieve his goal, he'll have to hike roughly one marathon distance every day (i.e. 26 miles)…up and down mountains, crossing rivers, and through deep snow (he's packing an ice axe, too), among other difficulties. The question is, will he make it? And perhaps the more important question we should be asking is, will he lose all of his gainz?
Here's the plan in Tom's own words…

Well my friends… it's time to finally announce my big goal for 2017… Because I finally have all my permits, all my gear, and it's official… and there's no turning back now…

It's an entirely new and different kind of fitness challenge, completely out of my comfort zone (for a "meathead" like me)

In the summer of 2017, Between May and September, I will humbly attempt to thru hike the Pacific Crest Trail (PCT):

2650 miles
From the Mexican border to Canada
Through California, Oregon and Washington
6 million steps
490,000 feet elevation gain (and loss)
Over 57 major mountain passes
Through 25 national forests
Across 7 national parks
Into 48 federal wilderness areas
Past over 1000 lakes
Burning 5000 to 6000 calories per day
Estimated completion time: 4.5 months

and… in the biggest snow year (in the Sierra) in the last decade.

This is not only going to be an adventure and a fitness challenge, it will be a fascinating study of what happens to body composition when you burn up to 6000 calories a day for months on end.

It will be the total opposite of anything Ive ever done before: Its not going to be easy to eat enough to avoid losing unhealthy amounts of weight and looking like a POW when (if) I make it, across the Canadian border in September.

It will also be an interesting study in "muscle memory" when I get back to full time lifting in the fall, after only minimalist lifting during the thru-hike (If I can even pull that off)

I'm going to photo-journal this trip on instagram at:
https://www.instagram.com/meatheadhikes/ (follow me here)

and keep a short, bare-bones written journal at:
https://outsideways.com/journals/meathead-hikes-the-pacific-crest-trail/

which i will also, hopefully, given limited internet access, copy here to facebook.

If you want to learn more about what this expedition involves, visit
https://www.pcta.org/

and check out some of the you tube documentaries including:

Pacific Crest Trail: as it happens (2011 – the last big snow year):
https://www.youtube.com/watch?v=LIvyuazEoaw

Living step by step Pacific Crest Trail 2016:
https://www.youtube.com/watch?v=DReLmlFhF9o

Wish me luck… I'm gonna need it! … And, I hope I have your support – because so far, 90% of my bodybuilding "friends" I've shared this with think I'm crazy and stupid for even trying it, and they haven't hesitated in saying so.

To anyone who doesn't want to support me because I have "betrayed" the bodybuilding community by switching to an endurance goal, (and I'm going to "lose all my gains"), now is a great a time to unfriend me, (ie, get lost),

To everyone else – my real friends – thank you in advance for your support.

Tom
So, in this interview, Tom tells us what's goes into a hike of this magnitude – the preparations he's making physically, mentally, and gear-wise. He also shares some of his fears and expected challenges, what and how he'll be eating, his plans for continuing his weightlifting while hiking, and much more.
So, have a listen, if you're ready for some adventure.
Interview with Tom Venuto about Hiking the Pacific Crest Trail
Interview with Tom Venuto about Hiking the PCT – MP3 AUDIO FILE (48 minutes, 44 MB).
You can follow Tom's journey in a few ways. You can check out his journal on Outsideways, which was founded by my good friend, Damien Tougas, who successfully thru-hiked the Appalachian Trail with his family a few years ago. Or, you can follow Tom on Instagram or Facebook.
Wrap Up
I want to thank Tom again for taking the time to do this interview. I wish you a safe journey and a grand adventure. And I'm looking forward to hearing all about it when you get back.
Note: You can learn more about Tom and his work at the links below:
If you found this article helpful, please share it with your friends:

Health-First Fitness Coach
P.S. If you liked this post, then please signup for the newsletter, or follow me on Facebook or Twitter for daily updates and other interesting info.