Plus Follow-up From Barefoot Ken Bob's Running Workshop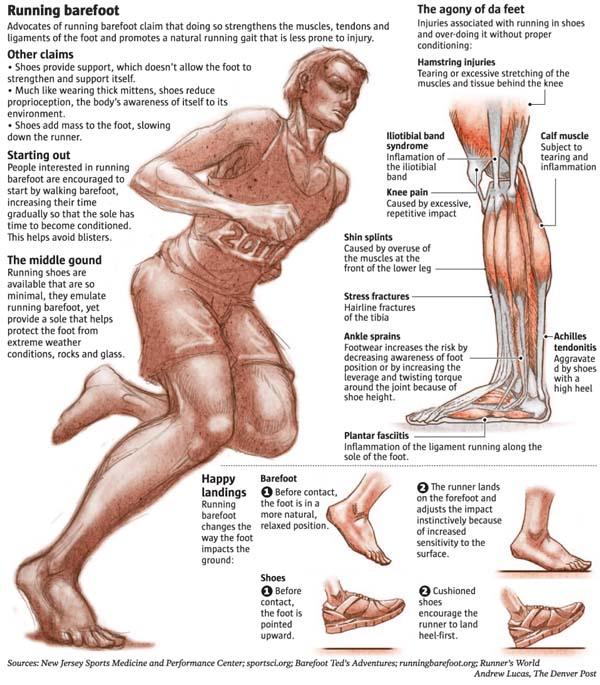 Our culture has made a mess of running. You'd think a simple, pleasurable physical activity wouldn't produce widespread problems, but we've butchered running to the point of near death with it having some of the highest injury statistics of all physical activities. Fortunately, there's a revolution sweeping the running community that is changing people's perspectives about running – and it all revolves around the idea of going barefoot. The coolest part is that anyone can start re-learning how to run immediately, and you won't even need to buy expensive, high-tech shoes. Before we get to the tutorial, here's some background information to whet your appetite.
A couple weeks ago, Barefoot Ken Bob Saxton (interview with him here) visited Cambridge, MA to teach a barefoot running workshop. It was raining for the 2 hour presentation and Q+A, but that didn't stop dozens of runners from coming out to learn from one of the worlds best barefoot running experts. I've never seen so many people barefoot in my life (except at the beach)! So much was shared during that time, and I wanted to forward on some of the most valuable advice I gleaned from the experience.

Barefoot Ken Bob admits that he is not a running coach – just a runner who's run 76 marathons barefoot. He assured us that we are our own best coach, and reminded us of something very important: a coach can see and hear what you're doing, but they cannot feel what you're feeling. Only you can truly know if something feels right or wrong – and that's applicable to not just barefoot running, but any physical practice. One of the best ways to get "in tune" with your body is to begin a comprehensive movement practice like Intu-Flow Joint Mobility.
The best thing you can do to learn proper running technique is to run completely barefoot (no, Vibram FiveFingers don't count as "barefoot"). Your body will send you the best possible feedback if you just lose the shoes and you'll make the safest, healthiest, and most expedient progress if you learn to recognize and listen to those signals.
We tend to over-complicate things that are truly quite simple – like running, for instance. Barefoot running is really simple.
There are 4 major things you want to focus on while running: 1) crown to coccyx alignment (ie, tall posture, looking forward), 2) quick cadence (180+ footstrikes per minute), 3) forefoot foot strike followed by heel contact, and 4) Relax, relax, relax.
Too many people only focus on the change in foot strike when making the transition to barefoot running, which is a terrible mistake. When running completely barefoot, your entire running technique will need to change – not just how your feet engage the ground (see below).
Daniel Lieberman was also there. He's the Harvard professor who has provided credibility to the barefoot running argument through a pivotal study that compared impact forces between barefoot and shod runners. See the study at his site: http://www.barefootrunning.fas.harvard.edu/ One thing that Dan stressed at was that your running technique is more important than your footwear choice, or lack thereof. However, going barefoot is the best way to relearn optimal running technique because of the direct feedback it provides about your movement. When it comes down to it, wear whatever you want. It's your body and running is YOUR hobby. Do what feels best and allows you to have fun.
For me, going barefoot is the easiest way to ensure excellent running technique (am I sounding like a broken record yet?). When in the FiveFingers I notice a strong propensity towards harder foot strikes – even when consciously trying to land gently. It's much easier and much more fun to run barefoot IMO.
All of the running technique courses (POSE Running, Chi Running, Natural Running, and Evolution Running, etc.) pretty much teach the same thing: optimal running technique. The differences between them are marginal and I wouldn't bother worrying about which system is best.
It was a great workshop and I would encourage anyone to attend one if Ken Bob will be coming to your area.
And with that said, here is a superb video about Learning the Skill of Barefoot Running with Lee Saxby, who is considered by many to be one of the worlds greatest running coaches (Lee is a Level 4 Pose Running coach – Master Instructor level). Saxby teaches optimal running technique by having his clients… guess what…. go completely barefoot, of course!
Learn the Skill of Barefoot Running
Even though this was a promotional video for Terra Plana footwear, there's still a lot of value in Lee's instruction. For those who are interested in minimalist footwear or city running, check out this Reader Q+A: Going Barefoot in the City and the True Value of Shoes

CST, CST-KS, NSCA-CPT
Fitness Professional and Barefoot Runner since 2009