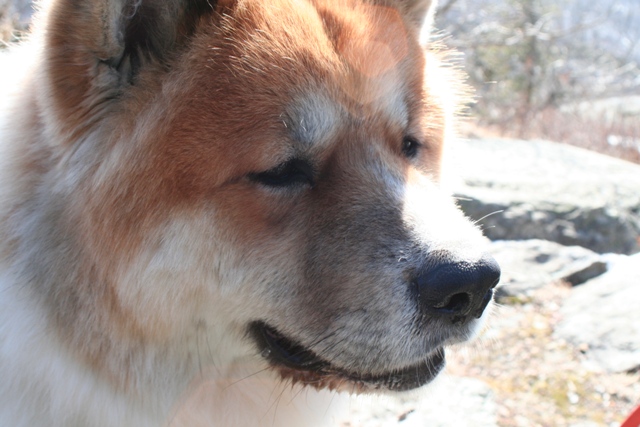 On a long run with my dog through Clough State Park (about 2 hours, distance unknown), I experienced something remarkable about functional human capacities. It was a warm day, and I was running barefoot on a trail loop that is comprised of asphalt, sand, gravel, stone, and packed dirt. Ronin was off-leash running at his own pace and I was maintaining what felt like a 10 minute mile pace – slow and easy.
When we go for an off-leash run, Ronin likes to take the lead until he finds something interesting to smell. So, he often charges ahead, trots for a bit, and then stops to investigate anything and everything. It's a beautiful display of the balance between working hard and resting just enough to keep going. Ronin knows when we're going to be out for awhile, so he paces himself accordingly for a longer run.
Here's where it gets interesting. After about 90 minutes into the run, I noticed that Ronin was no longer charging ahead of me. Rather, he was staying closer to me and maintaining a trot for much longer than before. Eventually, he fell behind and the distance between Ronin and I began steadily increasing. He simply couldn't keep up with my pace anymore – even though I was maintaining speed and not running fast by anyone's standards (a 10 minute mile, c'mon!). Granted, Ronin is an akita, which were bred for two purposes, 1) hunting bears, and 2) guarding a home or property. Sure, he's a northern breed, with some of the most ancient lines of heritage of any type of canine, but he's not a sled dog, if you know what I mean. He wasn't bred to have exceptional physical endurance levels like a Siberian husky or any type of herding dog. In all the dog breed books, akitas are described as athletic with moderate physical activity needs.
But still, this is an animal, a strong and athletic animal in his prime (still has all that puppy energy). And here I was outrunning him into significant fatigue. Had we continued for another hour or two, he would have been run to utter exhaustion just trying to keep up with his pack.
This got me thinking about human capacities, especially when it comes to running. Last year and for the first time in my life, I had conditioned myself to the point where running was almost effortless (do note that I've never run for more than 3 hours straight). More specifically, I was running with absolutely no pain or discomfort, and my level of exertion was very low. My breathing wasn't elevated when I ran, and when I stopped I didn't have to slow my breathing or catch my breath. Of course, an increase in speed would change that altogether! However, running didn't feel like work at all, and sometimes it was just as comfortable as walking. More often than not, I would finish a run refreshed, revitalized, and with seemingly more energy than when I started. Today, I'm finally able to relax while I run – something that would shock the doctors who told me I would never be able to run again.

It dawned on me that "this must be how it feels for those ultra-marathoners," or at least for some of them during the early stages of each race. As humans, we have it completely within our capacity to run effortlessly, and a variety of factors will influence how long we're able to maintain an effortless pace. Although, it's obvious that we aren't the strongest species, or the fastest either.
Usain Bolt is the fastest human in history, and a squirrel can outrun Usain Bolt – Christopher McDougall
Maybe we're don't even have the best endurance either, but nobody can argue the fact that we do have exceptional endurance when compared to other species. It's clear that we have an affinity for covering long distances on land efficiently. A major reason for this is because we regulate our body heat almost entirely through our skin, not just through respiration like many animals do. When we get hot, we sweat to cool down. Whereas, a dog must lower it's body temperature mostly through panting (or other obvious solutions like finding a shady, cool place to rest, drinking cold water, or going for a dip).
This video has been circulating several communities online. This is a persistence hunt of a male kudu, by tribesman of the San on the Kalahari Desert in Africa. This will give you a good idea of what kind of human endurance is possible. Enjoy!
Persistence Hunting in the Kalahari Desert
How to Run Effortlessly
I'm able to enjoy effortless running for several reasons. As is often the case, there isn't a single miracle-solution that will help you to run effortlessly, but rather, it's the integration of many different variables that contribute to better long distance running efficiency. It's also a skill that must be developed incrementally. It's not simply a matter of adjusting your technique or eating certain foods for better energy allocation. There is no quick-fix because it's a skill that requires diligent practice.
First off, feel free to read this quick guide on how to immediately improve your running hobby – you can consider this a beginners guide to cover some of the basics: 5 Tips For The Perfect Run.
After that, take on these advanced strategies for running effortlessly:
1) Change your perception of running – Running doesn't need to be an exhausting, painful, injury-producing activity. Running can and should be a joyful experience, and you need to believe that in order to make it a reality in your life. If you think that running is going to cause you pain or injury, then it probably will. However, if you change your mindset, you'll enable your body to follow suit if you give it the time it needs to adjust.
2) Slow down – The easiest way to decrease your running effort is to slow down. It's brain-dead obvious, but it bears attention. For me, this required that I forget my ego and go running for different reasons than to prove to myself or others what I can achieve. When I first started decreasing my running speed, I remember thinking…
"man, I'm going really slow. I might as well be walking, since this isn't much faster. I hope nobody sees me running this slowly! … OLD MAN!!!"
Once I got over any preconceived notions about what my speed should be, it allowed me to focus on my movement in the moment. So much of our running problems stem from distractions, and any runner knows that it almost always starts in the mind. When you're thinking about other things, it's impossible to be mindful of your movement. This is when pain and injury come into the picture. It's also why running, being quite a simple activity (that we've made complex) is an excellent vehicle to experience Flowstate performance – where all you are focused on is your movement.
3) Let your feet be your guide – Your body is incredibly smart and running barefoot gives you an opportunity to focus more strongly on the experience, instead of blocking out some sensory information from wearing a shoe. Most importantly, going barefoot requires that you pay attention not just to your environment, but to how your body feels. It should go without saying that going barefoot should be an extremely gradual process if you're accustomed to running in shoes. The bottom line is that if you listen to what your feet are telling you, eventually you'll be able to run effortlessly. If it hurts, then do something about it. Those blisters, shin splits, and DOMS are a sign that something is wrong. Use and trust your intuition.
4) Strive to improve the quality of your runs, not the quantity of your performance improvements – I think one of the best things I did was to throw running performance improvements out the window, which was followed by an impromptu dance session (No, I won't film a video!). I know that there's a time and place for measurements. Certainly if you have standards to meet, then you can't completely ignore your personal numbers. However, for those who aren't preparing for a track meet or physical fitness test, focusing on the quality of your runs is one of the best things you could do. So, instead of worrying about doing 1 mile more, or running the same distance in less time, just go out and run. If you're being mindful of your movement, you'll be constantly evaluating how you feel as you go. You'll know if you can run faster or longer intuitively.
The only way to have a perfect run is to free yourself from any expectations. Each day is different, and so is each run. If you are mindful of this before and during each run, you'll know exactly how hard to push yourself.
I think one of the best things you can do is to go running at a time when your schedule isn't packed – when you have plenty of time to devote to it, and you're not worried about your schedule (remember the mind distractions?). If you start with the attitude of "I'm just going to run until I don't feel like it anymore," then you'll have a much more enjoyable and possibly even effortless run. If this means you can only run on Sunday mornings, then do it anyways!
5) Rest when you need it – Part of throwing performance out the window may also involve totally top-sizing your expectations. Sometimes, the only way to ensure an effortless run is to rest frequently – either slowing your pace considerably or even walking. Today, my runs with Ronin are often quite varied (the off-leash runs anyways). We'll usually keep a steady pace throughout the entire run, but on occasion we will race each other in a full sprint or spend some time walking as silently as possible. Unless there is something beautiful to see or someone to talk to, we are always moving and pushing our limits within comfort. At a moment's notice, we can come back to that effortless default "persistence trot."
If you apply these five strategies, you'll be well on your way to running effortlessly. Although, there's certainly more to it than I've outlined above, and I'd like to know your experience with low effort or no effort running.
To your health and success,

CST, CST-KS, NSCA-CPT
Fitness Professional
P.S. One of the reasons why I'm able to enjoy effortless running is because I've spent years performing a daily personal practice to free my body of restrictions that would limit my range of motion and develop residual muscular tension. I use the Intu-Flow joint mobility program and Prasara BodyFlow Yoga to "clean the slate" in my body each day, and recommend that anyone who wants to be "free to move" should, too.