A Comprehensive Product Review of the Xero Shoes Minimalist Footwear for (Almost) Barefoot Running, Walking, Hiking, Yoga, and More! (aka "Invisible Shoes")
Note: Xero Shoes were formerly branded as Invisible Shoes. The product is one and the same, but you should know that this is technically an Invisible Shoes review because I got my sets before the company re-branded. I don't think it matters either way.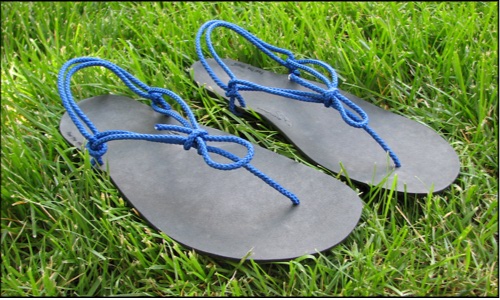 It was 10 degrees below freezing this morning, and I can't think of a better day to publish my review of the Xero Shoes, which is really more of a high-tech sandal or flip flop than a shoe. I may not be going to the beach anytime soon, but that doesn't mean I don't want to bring you this review of a superb minimalist footwear option.
I started evaluating these early this year – somewhere between the transition from Winter to Spring up here in New England. And I've put them through a lot of use in a lot of varying conditions and situations to see how they measure up.
So far, I'm pretty impressed and heartily recommend them to most people – given the right conditions. In particular, if you're at-all interested in an affordable minimalist footwear option for normal minimalist footwear reasons, and/or you'd entertain the idea of getting a set of high-tech flip flops, that in my opinion, are way – WAY – better than normal flip flops for a number of reasons, then you may be interested in Xero Shoes. However, if you live in Siberia, then I wouldn't throw away your Mukluks just yet.
All of the pros and cons of the product will be covered in this review, where hopefully, I'll help you decide if Xero Shoes are right for you.

Review of the Xero Shoes Huarche-Style Minimalist Sandals (aka Invisible Shoes)
The Top 10 Xero Shoes PROS
There's a lot to like about Xero Shoes, and I've chosen what I consider the top 10 advantages to share with you here.
Xero Shoes are a very affordable minimalist footwear option. Seriously, most kinds of minimalist shoes and sandals start around $50, and the better ones will be upwards of $100 or more. Maybe it's just me, but I thought minimalist shoes should have at least somewhat minimalist prices given that there's less total materials being used and similar, if not identical, manufacturing processes (custom or hand-made models aside). The Xero Shoes is one of the few kinds of minimalist footwear that actually is reasonably priced. You can't do much better price-wise than you can with Xero Shoes. And I'm not just talking about compared to the trending minimalist footwear here either. These are priced well for any type of footwear, and even the custom-made Xero Shoes are a bargain.
Xero Shoes are very versatile, especially for a type of minimalist footwear, which often tend to be specialized for one or two very specific uses. You can use Xero Shoes for walking, running, hiking, backpacking, and just casual use. How about at the gym? Yep. How about yoga? Yep. If you're environmental conditions are such that you can go barefoot (e.g. not too cold), then you can wear Xero Shoes. Of course, there are some activities and environments that the Xero Shoes are not suitable for, but all things considered, these are one of the most versatile kinds of minimalist footwear available.
Xero Shoes are very comfortable. After you've learned how to lace these up properly and have gotten used to them, you'll probably forget that you're wearing them at all. Case in point, whenever possible, I do not wear any footwear at all. I just prefer going barefoot most, if not all, of the time. It's just how I roll. But there have been many times that I've reached the end of a day only to realize that I'd been wearing my Xero Shoes all day long, and didn't even notice until I had to go to bed. You'll just get so used to them that, most of the time, you won't even know they're there.
Wearing Xero Shoes allows you to walk as if you were barefoot, without actually being barefoot. Now, I'm not a minimalist footwear expert, and I have not reviewed dozens of different types and models. But I have been going barefoot whenever possible since 2008. Naturally, I know what going barefoot feels like. That said, wearing Xero Shoes is about as close as you can get to being barefoot while still wearing minimalist footwear and having enough protection from the ground. That's the whole idea of minimalist footwear. Xero Shoes have excellent ground feel while still offering protection from punctures, abrasions, and other types of injuries. Now, that doesn't mean I'd necessarily call them "barefoot shoes," but that's just me.
Xero Shoes are hands-down a better option than flip flops. Let's face it. Flip flops are really cute and all, but they make you walk funny. They screw up your gait, your posture, and especially your feet. If you think about it, your feet actually have to grip a flip flop just to keep them on, and that does all sorts of bad things to your body over time. And good luck trying to run in them! You won't have any of those problems with Xero Shoes because they were designed to let you employ a natural walking/trotting/running pattern that is similar to when you are barefoot. My point being that you can walk and run normally in these. They're not my first choice for running (see CONS section below), but it can be done – trotting, running, and even sprinting if you have to.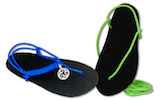 Xero Shoes have a personalized fit. These are not one size fits all. These are your size fits you. Whether you get a do-it-yourself sandal kit and craft them yourself or get a custom-made set from the experts, your Xero Shoes will fit your feet properly. Oh, and there's also "fun" accessories and doodads, if that's your thing.
Xero Shoes are a very high quality product. These aren't the el cheapos you can find at Wal-Mart (no offense to Wally World). These are made of high quality materials that will perform well and last awhile. Speaking of quality…
Xero Shoes are very durable. Good luck trying to wear these out! I've used them walking, running, hiking, backpacking, and casually for the past 9 months or so, and mine show very little signs of wear. Speaking of durability…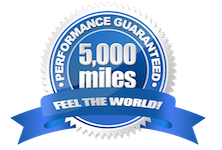 Xero Shoes come with a whopping 5,000 mile warranty. Forget about switching out your running shoes every 300 or 400 miles like the shoe company execs would like you to believe you need to do. That's just a marketing ploy they dreamed up to increase their company revenue and stuff their pockets. The crew at Xero Shoes would like you to know that you could run from New York City to Las Vegas and back on one pair of Xero Shoes. Now, I'm not going to test that hypothesis myself, but I do know that these are a very high-quality, durable product that will last for a long time and many miles. And if they do wear out prematurely, the Xero Shoes crew will hook you up. 'Nuf said.
Xero Shoes are a great value for your money. With all of the benefits listed above, and the fact that you can get a pair of these at a fraction of the cost of most other minimalist shoes and sandals, this indicates that these are a very high value for your money. For your dollar, I doubt you could do much better than this.
Xero Shoes CONS
Sure, Xero Shoes are great and all, but they aren't a perfect product either. No, they won't make your breakfast or solve all your problems in life, but the downsides really aren't all too bad.
I found Xero Shoes to be uncomfortable when running. More specifically, I couldn't get into a comfortable running technique while wearing them. They would slide around underneath my feet, and at certain paces, would slap my feet upon each footstrike. Running faster and sprinting would usually accentuate the sliding problem and abate the slapping problem. Whereas, running slower or trotting would usually accentuate the slapping problem and abate the sliding problem. I just couldn't have it both ways no matter what I did, and I couldn't get into a comfortable running groove. Your mileage may vary.
Xero Shoes do not do well when they get wet. The problem is two-fold when using Xero Shoes in wet conditions. First, your foot will be much more likely to slide around on top of the sandal. And second, the sandal will be much more likely to slide around on the ground (surface dependent). The bottom line is that you won't have nearly as much traction when it's wet outside. So, keep that in mind if you live in Seattle.
Xero Shoes are not the safest minimalist footwear option on steep grades. The reason being that walking on steep grades may cause the sandal to slide out from under your foot, and consequently, make you lose your footing. This is especially the case on loose ground like gravel, sand, loose dirt, etc. And if it's wet, this is much more likely to happen.
It might take you a couple days before you figure out a lacing method that you like. But that's not the end of the world now, is it?
Who Xero Shoes Are Best Suited For
If you're looking for an affordable minimalist footwear option for a specific purpose like walking, running, hiking, casual use, etc., then these are definitely worth a look. And if you ever wear flip flops, then you will absolutely love the Xero Shoes. Period. And in my opinion, getting a pair of these simply for the purpose of replacing your flip flops is reason enough to invest in them. You won't be disappointed, and once you've learned how to tie the things, I doubt you'll ever go back to wearing flip flops again.
The Bottom Line
The bottom line is that Xero Shoes are one of the most versatile minimalist footwear options currently available, and even the highest priced custom-made ones are much more affordable than the vast majority of minimalist footwear out there. If you'd like to get a set of Xero Shoes yourself, you can learn more about all the different kinds and available options at the official website here:
Note: for the time being, all Xero Shoes products are currently on sale – starting as low as $16.95! That's not too shabby for a minimalist sandal with a 5,000 mile warranty. I'm not sure how long the sale will last, so don't dilly-dally!

If you found this article helpful, please share it with your friends and tweeps:

CST Coach, CST-KS
Health-First Fitness Coach
P.S. If you liked this post, then please signup for the newsletter, or follow me on Facebook or Twitter for daily updates and other interesting info.