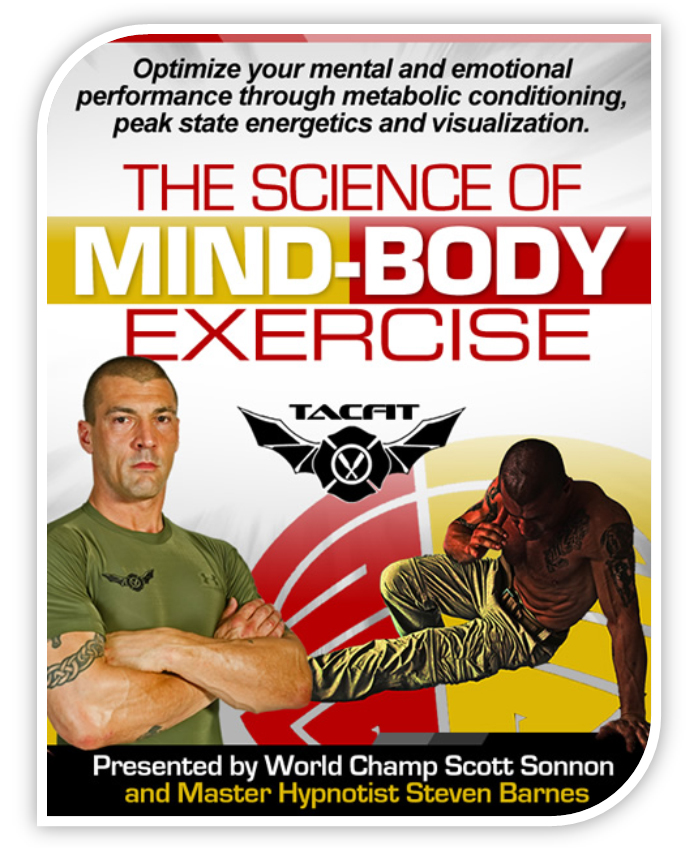 Upon first glance, TACFIT Warrior, is just another great bodyweight exercise program to add to your collection. After further inspection, you'll quickly realize that there's a lot more to TACFIT Warrior than just some unique and effective workouts. If you look deeper, you'll learn that TACFIT Warrior is actually an entry-level, experience-based fitness program for rewiring your conscious and unconscious thoughts and behaviors through physical exercise. It's a how-to template for achieving mental clarity and perpetual success, using your body as the channel for expressing that success.
Anyone can take the TACFIT Warrior workouts and receive exceptional physical results from them. This type of program will absolutely help you burn fat, build muscle, and develop remarkable conditioning levels. This is to be expected from any TACFIT or Circular Strength Training product that Scott Sonnon has released. But the physical results are only the beginning of this potentially life-changing program. Scott has also interwoven a mental component directly into the programming. This is the hallmark feature of TACFIT Warrior because it teaches you how to apply the lessons you learn in training to help you achieve positive results in other areas of your life, too.

Pro's and Con's
TACFIT Warrior (TW) shares many of the same advantages with other TACFIT products (especially with the TACFIT Commando program):
In comparison to other similar fitness programs, TW is very efficient in its delivery of value. Because of the ingenuity of combining the tabata protocol with strength-based bodyweight exercises, you get a large cumulative training effect in a single 20 minute workout. In only 20 minutes, you'll have completed a high intensity interval training (HIIT) session AND a strength training session.
Because of this blend of HIIT with strength training, TW is a superb program for those with fat loss goals. Anyone wanting to lose fat, trim up their midsection, or reveal their abs will be well-served by the TW fat burning ciruits, which will elevate your metabolism and burn fat for hours after you've finished training.
In the same vein, those who are trying to build functional muscle will also be happy with the results TW delivers. It's not suited for bodybuilders or fitness models, but you can build an impressive "hard-body" muscular physique.
TW is a bodyweight only fitness program, which means it can be performed anytime and anywhere. You don't need any special equipment to complete a TW workout. You can get started immediately after downloading it.
In the same sense, TW is portable. You can upload it to your computer, laptop, or smart phone anytime and carry it wherever you go. You can also access all of the product files anywhere you have an internet connection.
TW is scalable with 5 different levels of difficulty, meaning anyone regardless of skill or conditioning level can begin the workouts today.
TW helps you develop the ability to remain calm under pressure, and execute tactically-specific, complex skills with ease and excellent technique.
As with all TACFIT Programs, TW incorporates both joint mobility and Prasara BodyFlow Yoga to provide active recovery to PRE-habilitate your body against injury or overtraining.
One new addition that I really appreciate is the inclusion of suggestions for incorporating TACFIT Warrior with various training schedules and with other training goals. A lot of people won't have the desire or ability to follow TACFIT Warrior exactly as outlined. So, these suggestions teach you how to maximize your results with the time you have available while accounting for your unique training goals.
Now, let's talk about some of the disadvantages. One complaint that I have is with the follow-along videos. Now, don't get me wrong. I love follow-along videos because I think they help a lot of people. What I'm not too keen on is the narrative that was over-layed into each video. Master hypnotist, Steve Barnes, offers reminders, cues, and words of encouragement throughout each mission simulation video. This is apparently one of the key elements in the mind/body connection. It's not really a problem, per se, but it does irritate me. While there is something to be said of mental rehearsal and of positive affirmation, I'm not one to embrace encouragement being spoken to me through an audio recording. Some people like it, but I'm not one of them. The last thing I want to hear while I'm exercising at a near-maximal intensity is something along the lines of "you're doing great – just a few more reps to go" in a cheerful, soothing voice. I may be calm when I'm exercising, but I'm certainly not cheerful or soothed – and I can find my own mental fortitude to push myself without the the extra pep talk. Again, it's not a problem. I just find it distracting personally. Luckily, this issue can be remedied with the press of the mute button – making it a trivial complaint. (I know, I'm really reaching for some legitimate negatives)
The information contained in TACFIT Warrior is top-notch, but the overall product quality is average. Video and audio quality are decent – they communicate the content effectively, but aren't studio productions by any stretch. The manuals are adequate, but not exhaustive. If you're looking for shiny packaging, and cool special effects, then look elsewhere. If you can dismiss the packaging, and only really care about the subject matter, you won't be disappointed one bit.
Is TACFIT Warrior Right For You?
People who will be most appreciative of TACFIT Warrior will be those who would purchase it for the workout program itself, but are also interested in beginning to learn the intricacies that training has on our mindset and lifestyle. I would NOT recommend this program if you're solely looking for goal-achievement or success psychology advice. TACFIT Warrior has the bare minimum to help you apply the basic strategies, but this is primarily a fitness program. It's experience-based, and a starting point for seeking further education.
Note: if you ARE interested in all the philosophy behind the mental programming, be sure to pick up a copy of TACFIT Warrior during the 3-day launch sale and download the Threshhold Training bonus videos. This is over 4 hours of footage from one of Scott's success seminars where he shares all his tips and secrets for perpetual success.

Like I said, this is entry-level behavior modification, and certainly not a definitive guide on the topic. You can study the programming if you'd like, and there is an adequate amount of learning materials to get started on the strategy behind it, but TACFIT Warrior is designed to be experienced moreso than just studied. It's "plug and play," not "ponder and plan." You develop your capacity for mental focus and greater success by following the program and doing the work – not just by reading about it. All the planning has already been done for you – there is no guesswork involved. Just follow the program as outlined and you'll be right on track.
Arguably, this is a more valuable approach to perpetual success because it places you directly into the process of self-mastery without having to research, study, or learn anything. Even if you don't study the mental components, you'll begin to subconsciously acquire an understanding about how powerful mind-body exercise can be in transforming your life. This is not a new discovery, but an age-old discipline. Although, TACFIT Warrior is the first fitness product that I've encountered which teaches lifestyle success through a catalyst of physical success.
The Bottom Line
The bottom line is that TACFIT Warrior is a solid fitness program. Overall, I think the advantages far outweigh the disadvantages when taking an objective look at the entire product. There is a ton of value delivered with all of the resources and bonuses, and the price is unmatched in the fitness industry for this quality of educational materials. Although, that doesn't mean that TACFIT Warrior is the right product for everybody, which is why you need to see it for yourself.
If you're looking for a superb bodyweight exercise program and would like to get a taste for the power of mind-body exercise, then check out TACFIT Warrior right now:

*If you order through my referral link, please send me a copy of your Clickbank receipt and I'll send you a free gift. Just forward your confirmation email containing your receipt to physical (dot) living [at] gmail (dot) com and I'll reply with your gift. Thank you for supporting PhysicalLiving.com!
If you found this article helpful, please share it with your friends and tweeps:

CST, CST-KS, NSCA-CPT
Fitness Professional
P.S. TACFIT Warrior is on sale and discounted by 33% until Friday, December 17 at midnight. Be sure to make a decision about whether to buy before then to secure the discounted price and claim the special launch bonuses. After Friday at midnight, the price will increase by $50 and all of the limited-time bonuses will no longer be available. Any questions, let me know in the comments section.
P.P.S. If you have more questions about the product itself, please see the TACFIT Warrior FAQ Page.
P.P.P.S. You can find two TACFIT Warrior bodyweight workouts (with demo video) on this page: TACFIT Warrior Workout Challenge