TACGYM is the premier tactical gymnastics program that uses bodyweight exercises and simple acrobatics to help you master basic movements and help you gain access to flow-state performance.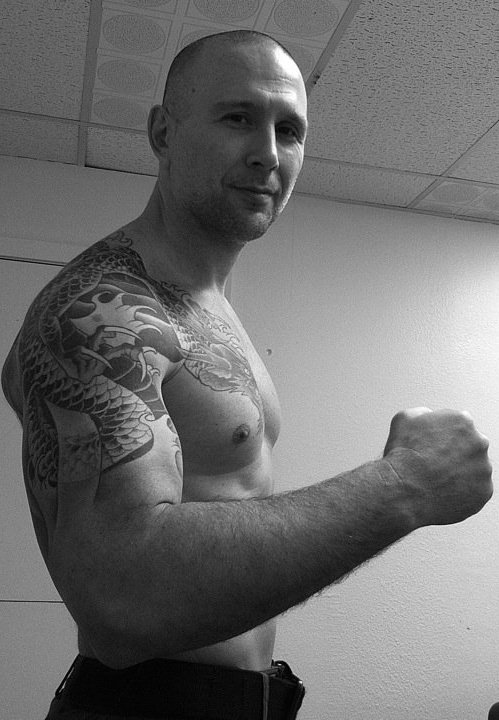 TACGYM is Scott Sonnon's latest solution for the functional fitness needs of soldiers, firefighters, other servicemen, and anyone who wants to increase their movement quality and potential – even us "normal" people. In case you don't know Scott, he's a World Martial Arts Champion, USA National Coach, a Master of Sport, and a fitness instructor to some of the world's top special operations groups. He's the real deal, folks, and I've been honored to call him my coach for the past 5 years.
Scott claims that his TACGYM program will transform your body through movement, and after my initial impressions, I'm inclined to believe him
What makes TACGYM unique are the unconventional, acrobatic exercises paired with effective programming that train the body in all planes of motion (3D conditioning) and with different energy system involvement. It's an equipment-free fitness training program that is accessible to people of all skill and conditioning levels due to its progressive nature and the fact that all of the physical skills advance in difficulty. With TACGYM, you aren't just training individual muscle groups, but the whole body through increasingly more complex movements that stimulate the nervous system to help you move and function more efficiently (along with other boring stuff like shredding excess bodyfat and chiseling "hard body" muscles – *yawn*).
Truth be told, I've been looking forward to this for a LONG time. In fact, I've been eagerly awaiting the release of TACGYM since before it was even an idea. No, I'm not claiming to have psychic powers or the ability to predict the future, just that I've been hoping for a program exactly like this to come around eventually. You see, back in 2006, I stumbled upon a little something called the BodyFlow program, which is a homemade recording of a one-day seminar teaching a few dozen unique biomechanical exercises (ie basic acrobatics). Even though it wasn't a Hollywood production by a long shot, the material was exceptionally good and I've been hooked on both the movements and the philosophy behind them ever since.
I've received exceptional health and fitness benefits from this type of training, but what I really like about this stuff is that it's FUN! It's truly a blast to try out new movements and explore the limits of your body. Since my first bout with BodyFlow, I've devoured several different permutations of the same material as it has evolved over the years, and has finally culminated into Scott Sonnon's Tactical Gymnastics Program – what he calls the 4.0 evolution of his movement coaching model. I was fortunate to be offered an advanced copy of the full program to review for you.

Who is this "John guy" to be reviewing the TACGYM Program?
Before you read any further, you should know where I'm coming from as a product reviewer. I'll say right from the start that, apart from a single workout session, I have not used TACGYM myself. Thus, I cannot possibly give it the extensive review it deserves, but I certainly will be in the future. That aside, I think I can still offer quite a bit of insight into the program both as a fitness professional and as a consumer.
First and foremost, I'm writing this review as a consumer. It's my goal to tell you everything you need to know before you purchase. By the time you're done reading this, you will be absolutely clear about whether or not TACGYM is right for you. My ultimate goal is clarity about the materials themselves – both about what you get, but also concerning what is involved AFTER you purchase. I want to make sure you invest not only your money wisely, but also your time and energy. TACGYM is definitely not for everybody, but for those it IS for – you are going to be quite impressed.
Secondly, I'm writing this review as a fitness coach of 5 years, and someone who is intimately familiar with the Circular Strength Training system upon which TACGYM is based (certified CST Instructor since 2009) along with its product library, including the many TACFIT programs. I'm not only familiar with the system that TACGYM is based on, but also with the individual training protocols, and even many of the movements/exercises themselves. Although I have never trained in TACGYM, I've been using the principles and methods behind it for years.
TACGYM Pro's
*I'm going to do my best to keep this as concise as possible – even if it means I have to bust out the good ol' bullet points and bold formatting!

In my opinion, TACGYM is the most impressive and immersive TACFIT program ever released. After reading the official TACGYM manual and viewing the many instructional and follow-along videos, it is beyond obvious that a huge amount of thought, research, practice, coaching, and trial-and-error testing went into the development of TACGYM. The materials reek of sophistication, yet the program is extremely simple and straightforward to follow. This is truly a new evolution of an exercise program, and sets the bar VERY high for future fitness products.
Here is the abridged version of what I like about TACGYM…
Firstly, there is a LOT of material included in the TACGYM package. For the price of a couple personal training sessions, you're getting a lot of value. If you went through the entire program, step-by-step, you'd have a year's worth of training material. But honestly, you could devote more than a year to practicing this stuff.
You'll probably also be happy to hear that a good portion of that material is NEW. I keep a keen eye on all CST and TACFIT products, and own almost all of them myself, and I still found things in here that I've never seen before – not only brand new exercises, but recovery techniques and methods for tracking progress among other things.
One of the best things about TACGYM is that it's a plug-and-play program and very simple to follow. You really don't need to do anything to prepare or get started, and there is no guesswork involved. Everything is laid out for you – just review the instructional materials and get started – nothing to adjust, nothing to test, and you can get started immediately.
TACGYM may not be for everyone, but almost anyone can do TACGYM. Two of its hallmark features are how incremental progression and exercise sophistication are weaved into the programming. These ensure that anyone, regardless of skill or conditioning level can begin using TACGYM today – young or old, fat or fit, athlete or desk jockey. As long as you've been cleared by your doctor to exercise, chances are you can get started with TACGYM today. It'll work for anyone – from complete beginners (even if you've never exercised before), to seasoned CST and TACFIT athletes.
In the same vein, you don't need to be familiar with either the CST or TACFIT systems to start using Tactical Gymnastics. Complete beginners will have no trouble learning and implementing the system. This is a great introduction for people whom are not already familiar with the CST and TACFIT systems, and a good review for those who are.
Not only does TACGYM include gradually more challenging skills through movement sophistication, it also includes what is called the Complex Training Effect. This is similar to kinetic chains or "hybrid" exercises, in that you are combining two or more movements together to get a more sophisticated movement skill. Naturally, your results will increase as your skill development does. In essence, you'll be getting more out of each repetition as your training advances = more training efficiency.
TACGYM is not a body transformation program, it's a movement transformation program. That said, you will still transform your body as a by-product of performing these workouts. It's not the primary goal, but it will be an indirect result from using the program. The movements themselves (over 50 in the main program, and over 100 with the bonus materials) are multi-plane exercises that move through the six degrees of freedom (hitting the whole body in every possible plane of movement). These drills are designed for a lot more than just aesthetics, but I can guarantee these workouts will build lean muscle and shed excess bodyfat giving you that hard-body look of a gymnast or acrobat.
There are three different training protocols in the TACGYM program, meaning you'll get a much more broad training effect and be able to improve different energy systems. Again, the instructions are extremely detailed, leaving no stone unturned.
Just from reviewing the training protocols, I can tell that though these workouts will be low to moderate intensity, they will still be quite challenging. Now, the good news is that TACGYM presents what I consider a new level of intuitive training helping you to take more control over your individual program. Remember that YOU will create the level of challenge that you're comfortable with by using CST's Intuitive Training Protocol that is explained in the manual.
A huge plus is that TACGYM requires zero equipment – meaning you need absolutely nothing else to get started and you can do the workouts anywhere, and anytime. You don't need a gym membership or an expensive home gym – just some open space on the ground to move around on.
Another major advantage that TACGYM has over most other fitness programs is that there are three different schedule possibilities included in the program (e.g. 4×7, 7×4, and 3/week). So, no matter what your schedule, you'll be able to find a way to follow the program without too much hassle. Speaking of which, the workouts themselves only take about 20 minutes plus extra time for warmups and cooldowns.
Another major advantage that TACGYM offers is a specific formula for integrating other training programs or extra physical activity into the workout program – meaning you don't necessarily have to give up your current physical activity routine to use TACGYM.
One of the hallmark qualities of any TACFIT program is the recovery techniques built into the program design. While TACGYM does not have specific warmups and cooldowns for each workout, it does have some general recovery techniques that can be used as warmups, cooldowns, and for active recovery on non-strength training days. Of particular interest are the fact that these recovery techniques are somewhat new to the CST and TACFIT curriculum. It's not your usual run-of-the-mill Intu-Flow and Prasara routines.  There is a brand new joint mobility routine using a staff or wooden dowel. There are also a few Prasara Yoga flows designed to counter-act common problems in the lower body. What is most interesting is the bonus program called Body Rolling, which is a myofascial release mini-program for alleviating much deeper tension between training sessions (much like foam rolling).
Not only are there recovery techniques for before and after your training sessions, there are also specific strategies for recovering between circuits, individual sets, reps, and even during an individual repetition. These are some fairly advanced training strategies that are invaluable to anyone who intends on getting the most out of each training session, and you can't find this information anywhere else (that I know of).
One of the best inclusions in the TACGYM program is a detailed explanation of the 4×7 periodization strategy and the 4-day wave associated with it. It leaves no questions unanswered, and even offers specific examples of what kinds of activities you can be doing on each day to help you plan out your entire training program.
One last thing, the quality of the instructional and follow-along videos is the best yet for a TACFIT product. No, these aren't Hollywood productions, but they do serve their purpose wonderfully. The follow-along simulation videos, in particular, have received a major face-lift over previous products. They provide everything that is necessary and only what is necessary (and there are no cheesy pep talks scattered throughout!).
I could go on and on, and I've really only covered half of my notes. Hopefully, you see that this is not just another average fitness program. This is a new beast entirely!
I have yet to see a workout-related product that offers so much detail and precision in its structure, and yet, there is nothing extraneous in TACGYM. Everything you could possibly need to reap the benefits from this program is included, and nothing more. There's no fluff, no filler info, and everything is in there for a reason.
TACGYM Con's
In an attempt to be fair and unbiased (I am biased after all), here are what I consider the disadvantages of the TACGYM program…
There are no workout-specific warmups and cooldowns like former TACFIT programs. Although, this is really a moot point because of the low intensity nature of TACGYM training sessions. TACGYM is not a high intensity program, and the workouts don't necessarily require specific warmups, though warming up is recommended in the manual. Plus, the general recovery programs are included and can be used for both warmups and cooldowns.
The official manual that you receive is a honking huge PDF file and includes quite a bit of graphic design work. While it does look great and completely professional, it is a bear to load – even with my monstrously-fast, tricked out PC. It's a little hard to navigate – even scrolling down is clunky.
It also took me nearly two hours to download everything – even with an ultra high-speed fiber optics internet connection (I know that I'm really reaching here!)
I really can't complain. Apart from those petty annoyances, I think TACGYM is nearly perfect for the right person. It's plug and play and brain-dead simple. Just do the work and you'll get the resulting benefits.
A Note on Quality and Value
The TACGYM program is, without question, one of the highest quality products and best values that I've seen in awhile. I've been following Scott's work for years, but this program greatly exceeded my expectations. It's comprehensive, innovative, effective, and lot's of fun! I can't tell you how many fitness and diet products I'm asked to review here on Physical Living. It's almost over-whelming! The truth is that there are a LOT of junk programs out there that are way over-priced and practically useless – not to mention they don't even deliver on their promises. This isn't one of them. There may be some trivial flaws that I have over-looked, but I have yet to find a legitimate fault with this program. Perhaps time will tell, but I'm not crossing my fingers. Instead, I plan on using TACGYM myself in the future.
This is, by far, one of the best investments you could make in a fitness info product online. You get a whole lot of value for your dollar that could keep you busy for a long time. Scott is clearly over-delivering with his offer – not to mention all the bonuses included. Although, that doesn't mean that TACGYM is the right product for everybody, which is why, ultimately, you need to see it for yourself.
Who is TACGYM best-suited for?
People who will be best served by TACGYM will be those who are interested in the progressive bodyweight and acrobatic movement patterns and generally enjoy exploring new movement possibilities in a workout program format. I would not necessarily recommend this program if you're solely looking for a fat loss exercise routine. It's true that TACGYM will improve your health, fitness, and body composition, but this is primarily a movement transformation program, not a body transformation program. Sure, it'll burn fat and will build "go muscle," but not necessarily show muscle. If this type of movement appeals to you at all, then this should be a no-brainer.
But seriously, if you're looking for a new and innovative fitness training program that goes above-and-beyond mere fitness benefits, and will not only guarantee fat loss and muscle gain, but also better movement efficiency, injury prevention, and all-around conditioning, then you need to buy the Tactical Gymnastics Program. Pick up your copy at the official site here: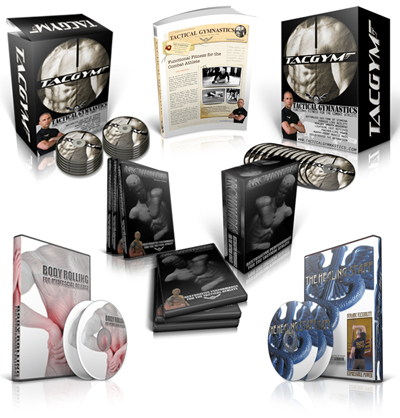 *Don't miss out on the launch week discount and bonuses – expiring 5/22/2011 at midnight PST!
**If you order through my referral link, please send me a copy of your receipt and I'll send you a free gift: The TACGYM Double Leg Swoop Coaching Video (11 minute instructional video in WMV format). This has been one of my favorite exercises for years. It's great for strengthening the core muscles, and releasing tension in and around the hips  and lower back. Plus, it's a lot of fun to do because you feel like you're breakdancing! After you've placed your order through my referral link, just forward your confirmation email containing your receipt to physical (dot) living [at] gmail (dot) com and I'll reply with your free gift. Thank you for supporting PhysicalLiving.com!
---
If you found this article helpful, please share it with your friends and tweeps:

CST, CST-KS, NSCA-CPT
Health-First Fitness Coach
P.S. If you'd like to have a look at a few actual TACGYM workouts, then check out the video and instructions here:
P.P.S. Also available is an excellent interview I did with Scott Sonnon to help you learn more about the TACGYM program before you buy: