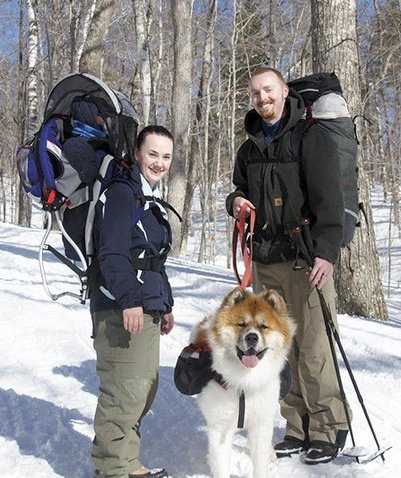 It's a beautiful, sunny day here in New Hampshire today. Spring is just around the corner, and my family just got back from an afternoon hike in Fox State Forest. We don't usually hike in the middle of the week, but it was hard to resist with such beautiful, warm weather and the threat of snow this weekend. I was fairly certain that the snow season was over a few weeks ago, and truth be told, the thought of more is slightly aggravating (in a crazed, cabin fever sort of way). If anyone knows, please remind me why I willingly live so far north! Oh that's right – everything else besides the long winters.
Anyways, for the last six months or so, our family has gone hiking once a week. It's hard to believe, but that's about 25 hiking trips by our estimation. At the rate we're going, we'll be hiking about 50 times a year on average. That sounds outlandish and excessive when you tally them all up, but it's not a huge undertaking week to week.  It just takes a little planning and prioritizing.
You see, about six months ago, shortly after my son was born, our family decided to commit to a weekly adventure. We've always enjoyed outdoor recreation and wanted to start prioritizing these activities as a family. So, sometime between October and November of 2010 we decided to "get out there" at least once a week – and make this a very high priority. In other words, we go out of our way to get in a little adventure every single week – no matter what. Our trips have ranged from an hour walk at a local park to a 3-day backpacking trip (pictured).

Why we choose to be strange people
This decision may strike people as strange, when most people are packing up all their hiking and camping gear before winter, we are just beginning to get serious about it. Don't get me wrong, we've always enjoyed outdoor recreation, but making it a weekly priority changes things. We made this decision for a few reasons:
to set aside a specific time as a family
to enjoy time in the outdoors
to foster and develop an appreciation for nature in our children
Those reasons are good enough to get us out the door, but the other benefits have been most welcome. For starters, getting away from the mundane, day-to-day schedule has become a form of balance for our family. No matter how hectic our lives get, we still make our weekly adventure a priority. It's like a lifestyle reset button. When you're out on the trail, you're given an opportunity to forget about all the junk in day-to-day life – the bills, to-do lists, paperwork, and endless responsibilities. It's immensely stress-relieving to just spend time in nature (research has been proving this at a biological level for years). It's also given us something else to look forward to during our week. The anticipation of the next adventure gets us excited and we literally can't wait to hit the trails.
Then there are the physical benefits, of course. Going for a weekly hike is obviously good exercise and improves health. Some people hike for this very reason, but I like to think of the physical benefits as more of a side-effect – not the main focus. I'll consider it an extra bonus on top of all the other benefits. You know what's funny though. Without fail, after every single hike we've been on, I've felt physically better afterward than before we started. Sometimes, we even have more energy as a result from the hike – assuming it wasn't too grueling (we haven't had many of those with the infant, but are planning some doosies for the summer).
The last major benefit is the experience of spending time in nature, and all that comes with that. Fresh air, sunlight, and birds singing are welcome parts of that, but we've savored the snowfall, freezing temperatures, muddy trails, and quiet serenity just as much. It's difficult to put something so immense and awesome into words (try Thoreau, if you'd like). Suffice to say, the experience is incredible and makes every little sacrifice worth it.
Wrap-Up
My point in telling you all this is that we are getting a whole lot of bang for our buck. A simple decision to get outdoors once a week is having such a positive impact on each of us, and on our family as a whole. It's one activity that integrates several different benefits into one very rewarding package. It's one of the best decisions we've made, and I can only seeing this practice growing as our family does.
We've been adamant about getting out there, and we don't easily compromise. That's one of the reasons why we've been able to keep this up for so long. That said, it hasn't always been easy. Sometimes, it's been very hard and has caused some trouble at times, which is why a little bit of planning is invaluable to long-term success. It certainly helps that we have good friends who have been doing this for years before us. The inspiration their family offers us gave us a jump-start, but what really helps is some good ol' fashioned advice from the experts themselves.
If a weekly outdoor adventure sounds like Heaven on Earth, and you'd like to consider making a similar commitment, then I want to encourage you to take the plunge. No doubt, you will face some challenges, which is why I recommend you check out this article by my friend, Damien Tougas, who is an expert in getting out the door for family adventures:
If you found this article helpful, please share it with your friends and tweeps:

CST, CST-KS, NSCA-CPT
Fitness Professional
Family Adventurer