How to do pullups and chinups with the most efficient technique possible to maximize your performance and prevent injuries.
Note: this pull-up technique tutorial is one of the lessons in my free 5-day Pull-up Training Crash Course. If you haven't signed up and you want to improve your pull-up strength and performance as soon as this week, then Click Here to learn more about the free course. I'll hook you up with the rest of the lessons and my very best tips on mastering the pull-up and chin-up exercises.

The pullup and chinup exercises appear to be movements that anyone can perform with a little effort and minimal instruction, but the truth is that most people are performing them improperly and risking an injury. This is the definitive instructional tutorial for how to perform pullups properly. Whether you're a complete beginner who has never been able to do a pullup before, or a seasoned fitness trainee looking to refine your technique and crank out a few more reps each set, this tutorial is for you. We're going to cover both the basics and some advanced tips and strategies.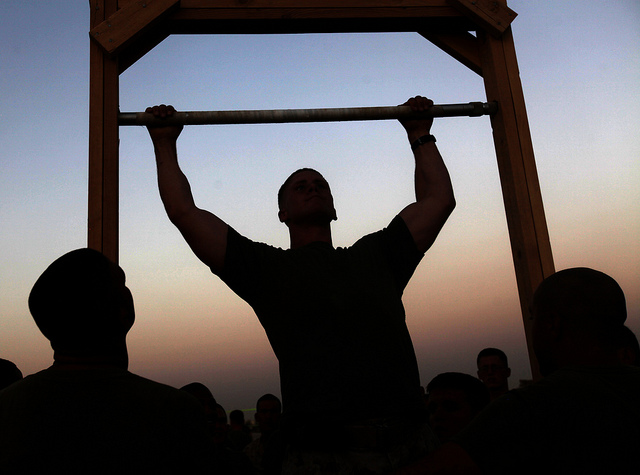 There are many ways to do the pullup and chinup exercises, but very few of them are actually efficient and safe over the long-term. The major problem is that pullups are rarely taught properly, even by so-called fitness professionals and personal trainers. The other problem is that, at first glance, the movement appears fairly simple (and it is), but people tend to assume they can do it properly without instruction. Sure, almost anyone with a decent amount of upper body strength can lift themselves until their chin is over the bar. That's not the issue here. The issue is whether you can do it with efficiency and over the long-term without injuring yourself.
It's one thing to successfully complete the range of motion, but it's quite another to actually refine the movement until you're performing it optimally and can access your maximum potential.
The pullup is a very challenging exercise, but that doesn't mean it's inaccessible to most people and only reserved for the most fit trainees. Anyone can learn how to do pullups and work their way up to high-repetition sets with enough time and practice. But it's one of those movements that you can't fake – you're either strong enough or you aren't. This tutorial will teach you exactly how to access the most strength and power during the pullup exercise, which will help you to reap as much benefit out of the movement as possible. We do this by integrating the whole body into the movement, instead of just using pullups as an arms exercise.
I always chuckle when I hear that pullups and chinups are an arms exercise, or just meant for "back and bi's." It's true that the muscles of the upper back, in particular the lat muscles, and the biceps are the prime movers involved in the force production during the pullup exercise, but the truth is that pullups are a full body exercise. When performed with this in mind, you will experience the difference between isolated strength and full-body strength (it's a BIG difference).
By the end of this tutorial, you will have a thorough understanding of not only how to perform pullups properly, but also optimally.
Note: if you're already used to doing pullups and chinups a certain way, but have never learned to do them in this way before, you may see an initial drop in performance when you first start the new technique. This is simply because of the learning curve and re-conditioning yourself to a new movement skill. Rest assured, that with practice of the most efficient technique, performances increases will continue and you will eventually bypass your current numbers and will progress beyond what you could have done using a less efficient technique. Although, you may see an initial improvement in your performance, too. It just depends on your specific situation.

How to do Pullups and Chinups the Right Way


How to do Pullups and Chinups – Technique Tips and Strategies
1) Hand Positioning – Hand positioning for pullups and chinups is body-type specific and depends largely on the width of your shoulders. In all grips, your thumbs should NOT be wrapped around the bar, but should grip on the same side as the rest of your fingers. Also, your wrists must remain neutral (not flexed) and forearms hanging straight down from the bar.
a) Pullup Exercise: In the pullups exercise, your palms will be facing away from you, and for most people, your grip should be slightly outside of shoulder-width apart. To figure out the optimal hand placement, raise both arms overhead and lock out your elbows. Then pull your shoulders downward, packing them on your ribcage away from your ears. The most vertical position that you can get your arms and maintain both elbow lock and shoulder pack, that's where your hands should be placed. Note that if you have very mobile shoulders, you should not allow your arms to pass further than perpendicular to the ground. In essence, you should be hanging as straight down from the bar as you can achieve when not actually hanging. This ensures that you are not forced to strengthen a range of motion that you cannot achieve without the extra resistance that gravity provides while hanging from the bar.
b) Chinup Exercise: In the chinup exercise, your palms will be facing towards you. The optimal hand positioning is directly in line with your shoulder joints. Your hands, elbows, and shoulders should be in one line, and your forearms should be hanging straight down – perpendicular to the ground.
2) Elbow Positioning – The elbows must be fully locked in the bottom position and fully flexed in the top position of the pullup. During each repetition, it's important to maintain an elbow position that is drawn in towards your center-line, instead of allowing them to flare out. Think about squeezing them into your ribs while pulling yourself up towards the bar. This is the most efficient pulling position, and will help prevent injuries to the elbow.
3) Shoulder Positioning – Shoulders must be packed down on the ribcage to connect the structure of the arms to the structure of the core muscles. This is most important while in the bottom position of the pullup and will help prevent shoulder injuries that would arise from placing excess strain on the soft tissues around the shoulder joint. It's a good habit to pack your shoulders down before each set. You can do this by actively contracting the lat muscles of the upper back to pack the shoulders down in relation to your torso throughout the entire range of motion. If you cannot achieve shoulder pack while your arms are extended above your head, then you'll need to practice some joint mobility and range of motion exercises until you can. It's not safe to load a specific range of motion that you cannot achieve without additional loading. First, recover the ROM necessary, and only then strengthen it.
4) Spinal Alignment – The spine should be lengthened in equal opposite directions throughout the entire range of motion. Lift your head away from your shoulders, lengthening your neck upwards while simultaneously packing your shoulders down. Good shoulder pack will ensure you can achieve good spinal alignment of the neck. Do not hyper-extend the neck during the pullups, even if it's tempting to get your chin over the bar. Maintain this long spine throughout the entire duration of the set.
5) Core and glute activation – Activate the core musculature with a gentle contraction while also contracting the glute muscles, which results in a slight tailbone tuck (similar to a dog tucking its tail between its legs). Your contraction should be accompanied with a strong exhale (see below).
6) Breathing Technique – In combination with the core and glute activation (and the resulting hip tuck), forcefully exhale the air out of your lungs while pulling yourself up to the bar (the concentric portion of the exercise). This should result in a very tight midsection from the accompanying contraction, making your body feel easier to lift. On the way back down, allow an inhale to be sucked back in as you relax your lungs and throat (actively inhaling is unnecessary and may result in light-headedness from temporarily over-oxygenating your blood).
Wrap-Up
Using optimal technique in your exercise program is not just the best way to train, it's the only way to train if you want to succeed for the long-term. When you integrate all of the above components into the pullups exercise, you ensure that ongoing improvements can be made over the long term because you're practicing optimal technique. If you're using a less efficient technique or if you're neglecting one or two of the components, then you put a limit on your performance right from the start. Train smart and watch your performance skyrocket!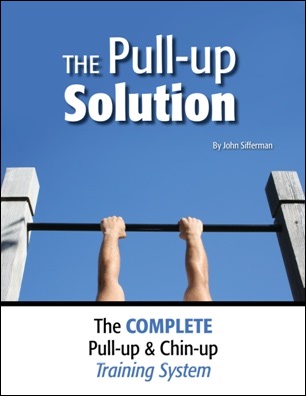 More Information:
Pull-up Training 101: The Basics on How to do More Pull-ups and Chin-ups
My FREE 5-Day Pull-up Training Crash Course
How to Achieve Your First Unassisted Pullup
How to Increase Your Pullup Numbers With Pyramid Training
9 Different Types of Pullups (Demo Video)
Kipping Pullups VS Deadhang Pullups
Doorway Pullup Bar Product Review (model used in the video above)
---
If you found this article helpful, please share it with your friends and tweeps:
ShareTweet

CST, CST-KS, NSCA-CPT
Fitness Professional