The plank exercise seems like a brain-dead simple pose that anyone can practice without much instruction. This is true, but to

refine

the plank exercise, one must implement some specific components to ensure optimal performance.
Note: This post is sponsored by SpecForce Abs.
It's one thing to balance horizontally on all four limbs and see how long you can last without collapsing. It's quite another to use the plank exercise as a stabilization drill (as it was intended). It's not about balance, so much as it is about crafting a solid, bodily structure in which you can distribute force production in relation to the ground.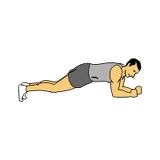 With the plank, there's a lot more than meets the eye, and simply looking at an example of the plank may not offer the detail necessary to optimize technique. The real problem is that the plank is seldom taught properly at all. Personal trainers seem to expect their clients to just "get it" by modeling what they've demonstrated, instead of teaching the specifics. It's true that almost anyone can imitate the plank position, but in my experience, most people miss a few vital components when performing it.
Done properly, the plank exercise can be extremely taxing, and for veteran plankers, may result in an initial drop in performance upon first starting the new technique. Rest assured, that with practice of the most efficient technique, performance increases will be regular and ongoing. On the flip side, if you're practicing a less efficient technique, you guarantee a limit on your performance (this is true of any exercise). Good technique is both efficient and effective and results in the greatest overall benefits, and that's what we're trying to do in optimizing our performance in the plank exercise – to squeeze as much benefit out of it as possible. We do this by turning the plank into a full body exercise, instead of just a core-strengthening exercise.
By the end of this tutorial, you'll have a thorough understanding of how to maximize your performance in the plank exercise.
The Right Way to do the Plank Exercise


The Plank Exercise – Technique Cues and Tips
1) Arm Positioning – Elbows must be placed directly beneath your shoulders – joints in one line (like a skyscraper). Weight should be distributed directly beneath your upper arms, under the elbows. The forearms should be pointed in whatever direction is most comfortable, with no additional weight on the forearms, wrists or hands (from no forward lean). The hands may be flexed into a fist or relaxed.
2) Shoulder Pack – Shoulders must be packed down on the ribcage to connect the structure of the arms to the structure of the core muscles. Actively contract the lat muscles to pack the shoulders down in relation to your torso.
3) Spinal alignment – The spine should be lengthened in equal opposite directions. Lift your head away from your shoulders, lengthening your neck while simultaneously reaching your tailbone in the other direction. Do not round the spine or extend the neck. Maintain this long spine throughout the entire duration of the set.
4) Core and glute activation – Activate the core musculature with a gentle contraction while also contracting the glute muscles, which results in a slight tailbone tuck (similar to a dog tucking its tail between its legs). Your exhale should be timed with this contraction (see below).
5) Leg drive – Instead of just balancing on your ball of feet, drive them backwards into the ground by contracting your quad muscles, which will extend your knees to lockout. Push your feet backwards into the ground, which will drive your heels backward in combination with the knee extension. This should be counter-balanced with a forward arm drive, creating an "arch effect," as demonstrated in the video.
Two things that I forgot to mention in the video are:
6) Foot and Leg Positioning – The best position for your feet is hip-width apart. For those who have tighter hips with limited range of motion, it's ok to place your feet a little wider (e.g. shoulder-width stance ). Similar to your forearm positioning, experiment with what feels best for you. You don't want any excess strain on your hip joints or the surrounding musculature to distract you or limit your performance.
7) Breathing Technique – In combination with the core and glute activation (and the resulting hip tuck), passively exhale the air out of your lungs until most or all of it is expelled. Allow an inhale to be sucked back in as you relax your lungs and throat (actively inhaling is unnecessary and may result in lightheadedness from temporarily over-oxygenating your blood). Once you have a lungful of air, repeat the slow exhale process again throughout the duration of your timed set.
Wrap-Up
Using optimal technique in your exercise program is not just the best way to train, it's the only way to train if you want to succeed for the long-term. When you integrate all of the above components into the plank exercise, you ensure that ongoing improvements can be made over the long term because you're practicing optimal technique. If you're using a less efficient technique or if you're neglecting one or two of the components, then you put a limit on your performance right from the start. Train smart and watch your performance skyrocket!
Important Announcement
I've had an idea for a unique abs and core training product in the back of my mind for awhile now, and I'm conducting a survey to see if there's enough interest to justify me working on it. If you liked this post, then you'll love the new program I've got in mind. So, if that sounds like something you'd be interested in, you can learn more about it at the link below.
But please be sure to like or share this post before you go – with those handy-dandy buttons below and in the slider to the left. Thanks for the support – it helps a lot! Plus, if I see a lot of shares, I know exactly what kind of content you'd like me to focus on more in the future. I've got a whole series of posts like this one that I'd love to put together for you, if there's enough interest. So, let me know before you go!
If you found this article helpful, please share it with your friends and tweeps:

CST, CST-KS, NSCA-CPT
Fitness Professional
P.S. Now that you've learned the optimal way to perform the plank exercise, it's time to test it out for yourself: Click here to check out the 5 Minute Plank Challenge For Core Strength, Stability, and Rock-Hard Abs.
Related Posts:
The Right Way to do the Plank Exercise
30 Days to a 5 Minute Plank and Rock-Hard Abs
The 5 Minute Plank For Core Strength, Stability, and Rock-Hard Abs
How to do the Side Plank Exercise for the Best Results
Another Plank World Record That We Can All Learn From
Training Tips From The 3+ Hour Plank World Record Holder
The Ballistic Plank Exercise for Rock-Hard Abs
The Elbow Plank VS Pushup Position Plank
Beginner Level Core Strengthening Exercises
Note: this post is sponsored by SpecForce Abs