QUESTION: hey john
thanks so much for your response, as usual very informative…
i ordered the flowfit package through the link you sent me…
another question, if you don't mind…
i was looking at the prasara bundle of the book, instructional dvd, and 2 dvd set…
what do you think ???
thank you for your time
mike
ANSWER: Hi Mike,

I opted for the Prasara Yoga Instructional DVD with the book. I have not previewed the 2 DVD set as of yet. The reason I never purchased it is because it's mostly a lecture about prasara yoga, and also an artistic display of the "flow chains" that Scott Sonnon has created for Prasara yoga.
When I asked the RMAX faculty about it, they recommended I stay away from this one since it is not instructional in nature. I would have needed a firm understanding of yoga to pick up on the routines (which I did not have at the time). I wasn't as interested in hearing the theory or history of Prasara Yoga, as I was in actually trying to learn some of it myself.
So, I got the book and the Instructional DVD.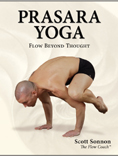 The book is one of the most enlightening reads I have ever had regarding anything exercise or athletically-related. I recommend it to everyone pursuing almost any goal.
Logically, I knew that the book would lead me to wanting to try the exercises, and I do much better watching an exercise on DVD than reading exercise cue instructions. So, I got the accompanying DVD too. Turns out, the same artistic flow chains from the 2 DVD set are included on this DVD, as well as
detailed walk-throughs where Scott talks you through each component of the poses and transitions.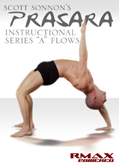 I got the book and DVD in a bundle for $55, which is even less than the 2 DVD set alone, I think.
I really enjoy the Prasara materials, but it's one of the most challenging things I've ever done physically. Somehow, being still and trying to relax in difficult poses is much harder than swinging or lifting weights – for me, at least. I now understand that yoga is NOT just relaxing, or just "stretching." Prasara Yoga is a balance between strength and relaxation, and it is very difficult. The good news is that everything is adaptable, and each pose and transition can be adjusted to our own skill level.
If you have the money, at the very least, I would recommend you get the book, Prasara Yoga, and tear it apart. It's a goldmine of new thinking, "aha" moments, and missing links in most training programs. The Prasara Yoga instructional DVD will show you how to put it into practice.
To your health and success,

P.S. If you'd like to learn more about yourself using the exercises shown in the video above, check out the Prasara Yoga Instructional DVD.