UPDATE: Check out my new kettlebell review, where I compare some of the best kettlebells from all of the big players in the industry: 14 Kettlebells Compared: The Complete Kettlebell Review.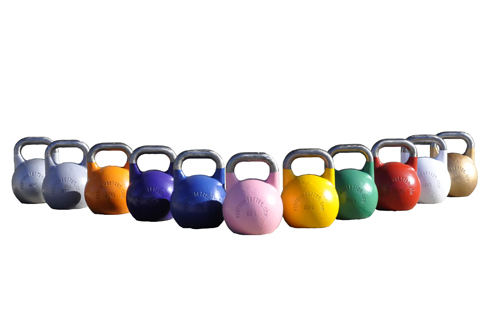 I used to endorse the pro-grade kettlebells sold by the IKFF, but that is no longer the case. You see, I found out that the IKFF simply sells kettlebells that are owned and sold by another company called Perform Better. On top of that, the IKFF prices are much higher – even though they're selling the same exact product. Maybe there's more to the story than that, but as a customer, I see one company trying to make money off of what their customers don't know. I still respect the IKFF, its members, and what they're doing in the world, but I won't be recommending their kettlebells unless they start pricing them competitively.
The simple truth is that you can get the same exact kettlebells for about 30% less just by ordering from Perform Better.
Example for a single 16 kg Professional grade kettlebell (including shipping to contiguous USA):
$110.90 (IKFF)
-$66.95 (Perform Better)
———-
Your savings: $42.95
Example for a single 32 kg Professional grade kettlebell (including shipping to contiguous USA):
$189.90 (IKFF)
-$109.19 (Perform Better)
———-
Your savings: $80.71
That's a lot of money to be saved on just ONE kettlebell!
Knowing that some kettlebells are outrageously overpriced, I decided to do a little bit of market research of my own to see if there was a trend among other online retailers. Ultimately, what I found shocked me. I was so surprised at the price differences between different companies, that I compiled all of the data into a spreadsheet to compare the price points directly. I found that WHERE you buy your kettlebells is just as important as WHAT you actually buy. In other words, some retailers markup their kettlebells so much, that you could buy two for the same price if you just bought from someone else.
If you'd like to see the full extent of my kettlebell market research, including actual price points from several of the leading retailers, then check out the following kettlebell buyers guide.
_______________________________________________________________________________________________
Most of us would like to get the highest quality products at the lowest price possible, and that's why I created…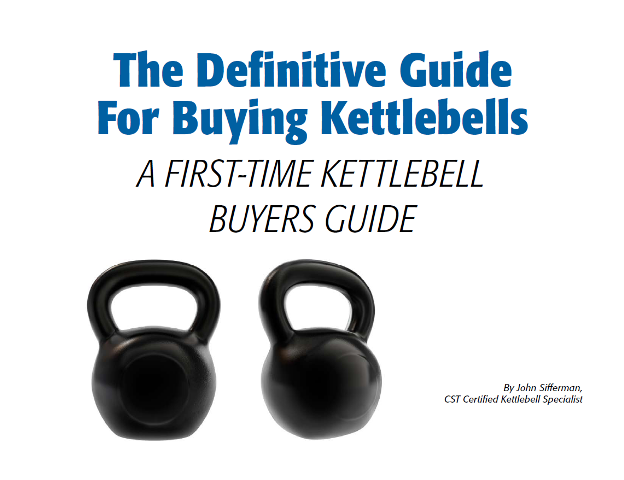 *Right Click Image and Select "Save Link As" to Download the PDF Special Report (400 kb)
_______________________________________________________________________________________________
DESCRIPTION: This is an exhaustive guide in PDF special report format that will answer all of your kettlebell buying questions. Also included is a chart of all the price points from several of the leading kettlebell distributors. I show the price of each kettlebell and the price of shipping, along with the total price – all in an easy-to-read spreadsheet. This is from personal research I did when trying to find the best deals on kettlebells for sale.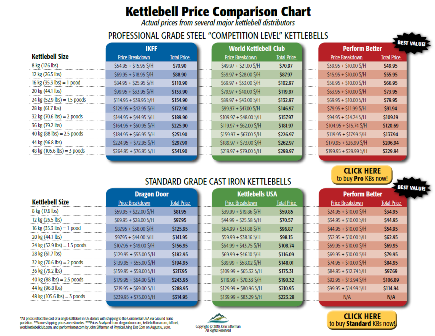 By the time you're done reading through this kettlebell PDF special report, you'll be the most educated buyer and ready to make the wisest investment with your money. You'll also know exactly where you can buy the highest quality, yet least expensive kettlebells online. If you do some snooping, you can even find out who marks up their products the highest, too!
This PDF report is free because I want everyone to know where to find the best deals on kettlebells for sale. I'd also like to get it into as many people's hands as possible because I receive a small commission on any purchases that are made through my links in the PDF. Rest assured that I only recommend products that I've tested and used myself. I've been using various types of kettlebells since 2004 and am also a certified Kettlebell Specialist through RMAX International.
_______________________________________________________________________________________________
The Bottom Line
I only recommend investing in Professional Grade Kettlebells that are actually used in Kettlebell Sport. As far as I know, the cheapest place to get them online is from PerformBetter.com. I've searched all over the internet for the best deals on Pro Grade Kettlebells, and at the time of this writing, Perform Better has them for the lowest prices by far.
The interesting thing is that you can buy Professional Grade Kettlebells for even less money than the more traditional Russian kettlebells from DragonDoor.com – and you're getting a higher quality product. For more information on that, check out my article Don't Buy Russian Kettlebells Until After You've Seen This.
Buy the least expensive Professional-Grade Kettlebells by clicking on the image here:


If you found this article helpful, please share it with your friends and tweeps:


Circular Strength Training Instructor
CST Kettlebell Specialist
Fitness Professional