This one is for my first serious training partner, Ethan. Good times, buddy.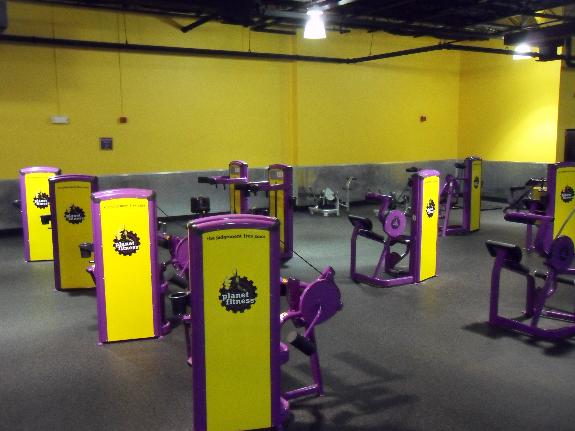 I used to have a gym membership. That is, until the day one particular "fitness" club kicked me out for… get this – working TOO HARD?!
That's right. I was working out too hard for the management's comfort zone, and they gave me the boot. But there's a little more to the story.
This was your typical 24-hour health club. I signed up because they were running a special offer at a ridiculously low rate with a no-penalty "cancel anytime" policy. Their business strategy appeared to be "get as many signups as we can, and hope most of them don't actually come and clog up the gym floor." This particular gym was my go-to spot for over a year. I made some great gains there, and by anyone's standards, I was milking my membership for all it was worth.
Now, when I say this was a typical health club, I'm sortof, kindof, maybe stretching the truth just a bit. This place was FAR from typical, and FAR from anything I'd ever want to encounter again – both as a customer and personal trainer. Let me paint a word picture for you…

The gym colors are purple and yellow. PURPLE and YELLOW – both colors that are meant to soothe, calm, and relax you (I think… calm as Hindu cows). The walls, machines, and support beams are all painted this way making you feel like you're in a giant adult-version of a kids play-place. Now, correct me if I'm wrong, but when you're working out, the words "calm" and "relaxed" aren't exactly at the forefront of your mind. At least they're not in mine. Sure, I try to relax through intense exertion, but it's a far cry from sitting in a lounge chair on a sunny beach in Maui while sipping a chilled, sweet-something-or-other. To me, that would be relaxing. Not jerking a heavy barbell over my head, or doing 20-rep sets of squats, or 20 more parallel bar dips than you thought you could when you started. I had to mentally settle with the gym atmosphere, assuring myself that my intense focus could drown out the negative effects of their Barney-the-dinosaur theme. I'm still wondering if that environment truly didn't affect me though… I mean, does the color purple really lower testosterone levels like that old guy told me…anyways…
To make matters worse, this gym had an alarm bell that went off frequently. No, it wasn't a fire drill, or a defective circuit. It was an alarm bell that went off whenever someone was working too hard – affectionately labeled the "lunk alarm." They even have a a definition printed in giant text on the side of the gym walls reading:
A lunk is someone who grunts, drops weights or is judgmental of other exercisers.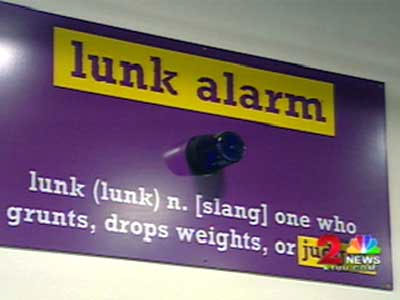 Whenever someone would grunt during a heavy set, accidentally drop weights, or otherwise make anyone in the gym uncomfortable, the alarm would sound and the whole gym would stare at the culprit. Sounds like a judgment-free zone to me!
What they didn't explain on the wall is that the lunk alarm can go off for any number of reasons including: using un-approved equipment, upsetting the management in any way (I hope you catch them on a good day!) and even breathing too loud. That's right, my training partner, Ethan, was confronted for breathing too loudly during a dumbbell exercise. The NERVE!
It's true, that I was on the receiving end of the lunk alarm several times myself. The management likely made a note in my file for being a repeat offender. I practically got to know the manager on a first-name basis after our cute little chats of
"you can't do that here."
"do what?"
"do that exercise, use that equipment, make that much noise… blah blah blah."
"oh……k."
Sometimes, I would try to reason with them. In the beginning, I'd stick with a safe response, "I'm just trying to get a good workout." But they wouldn't hear it, so I reasoned that "the human body needs progressive and adaptive stimulation in order to improve…" That didn't get me anywhere either, so I resorted to affectionate comments like "I think you're a very bad person."
But they wouldn't budge. It was their policy, you see. Good 'ol HQ wouldn't allow it – that was their usual excuse, but I think they just didn't like my red hair.
Anyways, on to that oh-so-glorious day that I actually got kicked out. It was a normal day at the gym. The ladies were chatting away on the treadmills, and the guys were flexing in front of the mirror. You had your average couch potatoes looking like they're passing a kidney stone while doing lateral raises with the 10 lb dumbbells, and there was the usual guy yelling into his cell phone like a loud-speaker. Ipods were strapped to sweaty, pulsating toothpicks… I mean biceps, and I was tucked away in the very corner of the gym where I would hopefully be left alone. They kept the squat rack where nobody could see it. I wasn't using it though. I just had the barbell on the floor and I was working on my clean and jerk that day.
Now, over the course of a year, I had mastered the art of working extremely hard without making so much as a peep. Said another way, I could move some iron with a forceful exhale that didn't make much noise at all (or so I thought). It was like a throaty puff of air that didn't register much on the baby monitor the staff insisted on attaching to my hip before every workout. (kidding)
I treated my Olympic weightlifting more like practice than training. I usually did many low-rep sets. 15-20 sets of very gradual weight increases was typical, and my last few sets were almost always a heavy single. So, I was in the middle of this session, and I must have caught the management on a bad day because they came over to me telling me they didn't allow this exercise in their gym. I must have been having a bad day myself because I told him how ludicrous I thought that idea was, especially since I had done the Olympic lifts many times before. The manager walked away after telling me I had to stop and do something else. He suggested that I use some of the machines instead, which irked me even more. Well, being a defiant individual since my good mother brought me into this world, I continued on with my workout. I was already beginning to think of getting an Olympic barbell set of my own, and that thought was holding me over until I at least finished my workout for the day.
But alas, the manager came back, this time with another personal trainer who had apprehended me many times, and they asked me to leave immediately. I was tempted to start a brawl, but I decided to leave respectfully and never return. I canceled my membership that day, and have never stepped foot into a gym like that since, and I pray I won't again.
This whole story happened years ago, but I was reminded of it this week when I had a sudden realization. If you truly want to achieve some remarkable physical goals, you're going to need to go against the grain of what society expects of you. Our culture has unspoken dogmatic policies, and so long as you're part of the system, you'll be pressured to conform to those policies. That also usually means you'll have a hard time achieving your goals. A good rule of thumb is that what is often necessary is also the OPPOSITE of what the majority is doing. If you want the body you've always dreamed of, you're going to need to break the rules and become a fitness outlaw. You choose.
Start by doing what's necessary; then do what's possible; and suddenly you are doing the impossible. Saint Francis of Assisi

CST, CST-KS, NSCA-CPT
Fitness Professional