The Clubbell Flow Evolution is a health-first clubbell training program that is meant to help people enact positive lifestyle change through the conduit of physical transformation. It is a user-friendly, plug and play fitness training program that caters to an individual's skill and conditioning level to help them burn fat, build muscle, and improve strength and conditioning while also developing the character qualities they desire to embody on an every day basis.
Broad and deep. Those are two words that come to mind after previewing the actual product materials in the Clubbell Flow Evolution. I was lucky enough to be sent a copy of the program to beta test several weeks ago, and I've been pouring over it ever since so that I could bring you this product review today. Now that I've downloaded and previewed the actual finalized product materials themselves, I'm practically speechless. OK, ok, if you know me – I'm not exactly speechless, but this is a seriously impressive program – one that has transcended far beyond my expectations. But I guess I should have expected that from the likes of Shane Heins who is infamous for over-delivering on everything he creates. The nerve!


Just this morning, I stumbled across a Clubbell Flow Evolution product review by CST Head Coach John Belkewitch (see here), and I wanted to share something he said that struck a chord with me. John is a fitness coach and physical culturist whom I admire and respect, and I think he hit the nail on the head when he said: "If I was stranded on a desert island and could only take with me one clubbell program that's currently out there on the market, it would absolutely be Clubbell Flow Evolution." That is so spot-on, and I couldn't have said it better myself. So, if you're on the fence, I'd suggest taking John's advice and just go for it. You won't regret it, and if you're still doubting, the rest of this review will help you to see why.
The Clubbell Flow Evolution is, first and foremost, a physical conditioning system that draws on the many unique advantages of the Circular Strength Training system and the clubbell training tool. But it is so much more than that, in that, it is a road map to help one transform not just their body, but their entire life by drawing on the catalyst of physical transformation. Needless to say, there's a lot to it. So, in this review, I'm going to go deep into the main reasons why this is such an outstanding program and provide you with as much information as I can to help you make up your mind about whether it's right for you.
Clubbell Flow Evolution – What is it?
The Clubbell Flow Evolution is the third installment in the Clubbell Evolution training series, and it quite appropriately completes the trinity of Shane's clubbell training products. I've reviewed the prior two programs in the past, with extremely favorable remarks, and I have and will continue to recommend them to clubbell training enthusiasts because they are both excellent in unique ways. In fact, the first two programs, Clubbell Mass Evolution and Clubbell Hero Evolution, were both so good that it's hard to imagine making something even better, but the Clubbell Flow Evolution does just that. And I'm not talking just a little bit better either.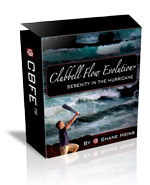 This new program is definitely a deeper evolution of Shane's products, and the best way I can describe it is that the Clubbell Flow Evolution is a Quantum Leap beyond the first two in programming, delivery, and the potential for positively changing your life – not just your health and fitness. It's on a new playing field in a league of its own. And it's really fitting, too – being the final installment in the Clubbell Evolution series. It's always good to go out with a bang, and Shane has done that, and more. And honestly, even though this is the last program in this series, I think he's just getting started.
In terms of what you actually get when you purchase, you're buying a digital (ie downloadable) comprehensive clubbell training program. It includes video and PDF files that you can view on your computer, laptop, tablet, or smart phone. There are instructional videos, workout follow-along videos, and warmup and cooldown videos, along with PDF manuals to help you streamline the process of learning the exercises and getting to work. Basically, everything you need to completely and fully follow the program and transform your health, fitness, and lifestyle for the better is laid out for you in digital format. 'Nuf said.
Sneak peek of the first thing I like about Clubbell Flow Evolution: There are not one, but three comprehensive training programs in this product package. You read that right. This is not just one program. When you buy, you're actually getting three programs in one, and get this. Each program is a whopping 9 months long! Yes, that's over two years worth of training programs, and after spending all morning downloading the GIGS and GIGS of data using my ultra-high speed fiber optic internet, I can tell you with assurance that there is a LOT of material to work through. But more on that later.
Note: you'll need at least 6 GB of hard drive space to download it all to your local computer. If you just don't have the Gigs, you can stream it all online.

So, who is Shane Heins?
Shane Heins is the founder of the Dare to Evolve organization and is also a Head Coach for the Circular Strength Training system – the highest achievement in the CST coaching hierarchy. Shane also happens to be a friend of mine, and even though he's a bit wacky at times (and even wackier in person), he's a solid guy with a good head on his shoulders (and not just because he rocks a Mohawk).
And here's the cool part, Shane is not a man trying to make a quick buck or sell as much merchandise as possible. Shane Heins is in the business of change, and his goal is to enact positive change in the lives of all those people whom he reaches through his Dare to Evolve platform. He is one of the most sincere, genuine men I've ever had the honor of calling my friend, and I can, without question, recommend that you follow his work and trust his word. And if you don't know Shane already, once you've read through the Introductory Guide in the program materials, you'll understand exactly what I mean.
What I Like About Clubbell Flow Evolution
There is a lot to like about the Clubbell Flow Evolution, particularly because, as a product, this is a further evolution from Shane's prior programs. All of the positive things I've said in the past about the other two programs also apply to this one – the quality, professionalism, value, user-friendliness, everything! So, I'll try not to rehash too much and focus on the major points I want to get across to save us both some time (you can read the other reviews if you want to know ALL the details here and here).
As I said before, this is not just one program. You're actually getting three programs in one package, for a total of 27 months worth of training programs. It's an incredible amount of material to work through, and the best part is that each program caters to a unique goal that also coincides with what kind of equipment you have on hand. So, the first of those 9 month programs only requires a single 5 lb clubbell and it is meant for restorative and general movement quality purposes – improving mobility, relieving tension, etc. The next program requires a pair of moderately heavy clubbells for endurance-based, doubles training – perfect for athletes or those with high activity vocational demands (and also for fat loss goals). And the last program requires a single, heavier clubbell for strength/hypertrophy work. So, no matter what your goals are, you'll be able to start with a program that is most suitable for you, instead of having to just follow along with a stock, cookie-cutter routine as best you can.
And that's a big theme in the Clubbell Flow Evolution (CBFE): matching the program to the actual needs of the end user. The CBFE meets you where you are today – your skill level, conditioning level, everything – and that's a rare quality in a do-it-yourself fitness program. There are four different training schedules that you can follow, so that you can match your program to your time available. There are even levels of commitment available in case you only want to devote X amount of time to the program (maybe you want to do something else alongside it). Couple that with different levels of exercise sophistication, levels of workout difficulty, and an intuitive self-coaching formula to make sure your workouts take you right to your edge, and no further, and you have an award-winning equation. It's the epitome of customizable – as close as you can get without actually hiring a coach for one-on-one training.
Not only is there a ton of material to learn and digest, but each component is extremely thorough in its presentation, too. If you've used the Clubbell Mass Evolution and Clubbell Hero Evolution programs, then it's probably too obvious to say that this new one will be extremely user-friendly. It's literally plug and play easy. Everything is laid out for you in advance, and there's no guesswork involved. You simply use the quick-start guide to figure out where to begin, and within minutes, you will have figured out exactly where to start and what to do. Of course, the downside of this benefit is that you'll have no excuses not to succeed. All you need to do is apply effort and do the work. Yeah, Shane makes it that easy (ie hard) for you.
Now, I've been guilty of geeking out over topics like program design and periodization, among other things. So, I'll try to contain myself on this next talking point, but let me just say that from what I can tell, the program design in Clubbell Flow Evolution is borderline-genius in its organization. Normally, when I'm evaluating a program for myself, I tend to think of ways that I might have changed a little detail here or there, but I had no such inclination while going through the training cycles. When I first took a look, I simply sat in a dumbfounded state of awe, saying to myself, things like, "that makes so much sense!" In fact, if you had been a fly on the wall when I first started going through it all, you may have seen inquisitive expressions and the occasional jaw drop. I seriously think that the program design is brilliant in its execution, and any fitness professional worth their credentials will be able to tell you with conviction that this program will be extremely effective for health-first body transformation purposes – regardless of which of the three programs you start with.
So, the bottom line is that this program works. It will help you completely transform your body from the inside out. If you follow the program and do the work, you're going to be feeling better, moving better, and looking better – and I bet you'll start to notice a difference after your first session. That's part of the so-called magic of CST-inspired programs (it's really just good programming) – they always leave you feeling better than when you started. Give it a couple of weeks, and you'll noticeably feel much better and you'll even start to notice some changes in the mirror. Give it a few months and it could literally change your life.
Another great thing about the Clubbell Flow Evolution is that there are lot's of clever new exercises. There's just a lot of new, fun stuff to be working on, but it doesn't stop there. You see, Shane has created a systematic progression to get people using not just single exercises, but also combination routines and clubbell flows. These are advanced level training strategies, and the fact that Shane has included them as part of the curriculum tells me that Shane is putting his trust in the system, knowing that anyone can train themselves to a high level of proficiency with the right tools in place. In other words, he's giving you the tools, and trusting you to use them effectively, a trademark of a selfless coach.
So, if you've been training with clubbells for years and think you've seen and tried it all – think again! There's a ton of new stuff, and as I mentioned before, there is a borderline-genius implementation of incremental progression – one of the most important training principles to adhere to – no matter what your goal is. In each of the three programs, rudimentary exercises eventually progress into combination routines, which eventually progress into sophisticated clubbell training flows – and each stage is a seamless transition. This is textbook incremental progression, and it literally takes you by the hand until you are performing at a very high level of training.
I would be remiss if I didn't mention that all of the product materials are of top-notch quality. The videos, in particular, have superb audio and video quality – the best yet of all Shane's programs. He went above and beyond what was necessary, and the quality shows. I just wish there weren't so many Gigs of data!
This leads me to my last point in this section: value. Even at the full price, this is an incredibly great value. For less than the cost of a couple personal training sessions, you're getting a comprehensive system to transform your body over the next two years or longer. Seriously, Shane could be charging that much for just ONE of the three programs, and by that logic, he could charge triple and I would still think it's worth it. If you buy this program, and actually use it, then you will be not just satisfied, but thrilled that you invested the money. You won't regret the decision to buy at all, but you must do the work.
OK, that's enough involuntary gushing from the over-eager clubbell warrior…
What I don't like
If there is one fault with the Clubbell Flow Evolution, it's that I can't find any fault at all. I really can't, and if you're a regular reader of mine, you know how hard I try and that I'm completely honest about how I feel about each program I review. Sorry, but I simply cannot find anything worth criticizing, except perhaps the absence of a superhero theme and a bonus leotard to train in. Maybe I will identify some drawbacks at some point in the future, and if so, I'll update this review, but I wouldn't hold my breath, if I were you.
The Bottom Line
I remember when Shane released his first program, Clubbell Mass Evolution, and I said that the product was so good that I only wish there was more. Well, the Clubbell Flow Evolution is the MORE I was looking for. This is hands-down, the single-best clubbell training program available today, and I've tried them all! So, I don't care who you are. If you have clubbells (or would like some) and have a desire to radically transform your health, fitness, and your quality of life, then you need to buy the Clubbell Flow Evolution. Pick up your copy at the link below…
And if you have to get just one of Shane's programs, and you're trying to decide which one, make it the Clubbell Flow Evolution – not just because it's a whole lot more material and programs to work through, but also because it's the deepest and most sophisticated product that Shane has created thus far. It's quite literally the perfect legacy product for the clubbell evolution series.
Now, before I send you off to check out the program for yourself, I must warn you: be prepared to do some introspection the moment you start going through the materials. If you're thinking about getting this program just because you want a good workout, then you'll miss the point of the entire program. There's some deep stuff for true lifestyle transformation in here, and it's only possible because Shane opened up and shared a piece of his heart with all those who will Dare to Evolve and find Serenity in the Hurricane we call life.
So, go forth and embrace the hurricane. You'll learn more about what that really means at the official site and in the product materials themselves…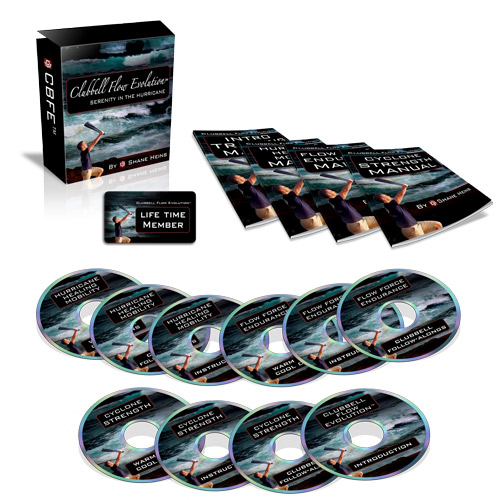 Special Offer For PhysicalLiving.com Readers: for the next few days, Shane is offering his complete Clubbell Flow Evolution Program at a 10% discount. But it's only available at the discounted rate until Saturday, October 27th. This offer is not available to the public, and you'll need a special link to access the discounted price. Instructions: First, Click Here to access the Clubbell Flow Evolution sales page, then Click Here to access the special order page.
This Offer Expires In:
*If you order through my referral link, please send me a copy of your receipt and I'll send you a free gift: The 7 Key Components of the Clubbell Front Swing (24 minute coaching video). Just forward your confirmation email containing your receipt to physical (dot) living [at] gmail (dot) com and I'll reply with your gift. Thank you for supporting PhysicalLiving.com!

If you found this article helpful, please share it with your friends and tweeps:

CST Coach, CST-KS
Health-First Fitness Coach
P.S. If you liked this post, then please signup for the newsletter, or follow me on Facebook or Twitter for daily updates and other interesting info.
P.P.S. Oh, and Juliet, your man is the MAN! Just sayin'.